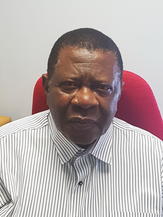 Joe Latakgomo is a veteran journalist with more than fifty years' experience. He has worked on newspapers like the banned The World and Weekend World, Post and Sunday Post as Assistant Editor, was founding editor of The Sowetan, Senior Assistant Editor of The Star, Assistant Editor of the Argus Africa News Service, former Public Editor of Times Media and is currently Public Advocate on the Press Council of South Africa.
He was inducted into the SAB Sports Journalists Hall of Fame in 2009, and awarded a Lifetime Achievement Award by the South African Football Association in 2011.
He has travelled widely in Africa, working for the Argus Africa News Service, in Japan, Hungary, the UK, Canada and spent a year in the United States of America on a Nieman Fellowship at Harvard University in Cambridge.
He has published a book on the history of soccer in South Africa, published by NB Publishers (Tafelberg) in 2010, titled Mzansi Magic, Struggle, Betrayal & Glory: The Story of South African Soccer. Joe Latakgomo wrote the text for internationally acclaimed photographer Peter Magubane's photographic commemoration of the June 1976 unrest.