Like most activities in rural communities, cooking is performed by women.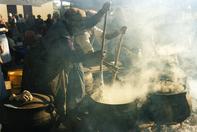 ©Dr Peter Magubane
During important celebrations maize porridge, steamed breads and pot-roasted meat obtained from ritually slaughtered animals are prepared in the open in large iron pots over wood-burning fires.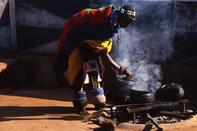 ©Dr Peter Magubane
The use of three-legged cast iron pots first became common in the 19th century when traders began bartering items like these in exchange for ivory, the hides of domestic animals, and other indigenous goods. Pots like these are favoured in part because they are sturdy and long-lasting. Some are known to have been passed on from one generation to the next.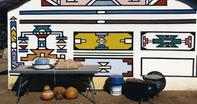 ©Dr Peter Magubane
In most homesteads people use a variety of vessels to cook and store foods, such as clay pots, and aluminium and enamel containers. Enamel has become increasingly common, but clay pots are still used for brewing and consuming beer.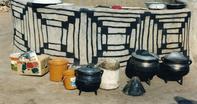 ©Dr Peter Magubane
Some communities habitually cook food in open air enclosures. The walls of these structures protect fires from being extinguished during bouts of windy weather. These enclosures also ensure that fires are prevented from spreading to surrounding fields and thatched dwellings.
©Dr Peter Magubane
Three-legged iron pots are used for roasting meat, cooking maize meal porridge, and preparing other stables like pumpkin and morogo, a wild African spinach that has become so popular that seeds for this indigenous vegetable can now be purchased commercially.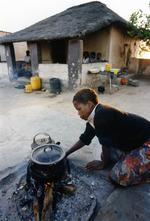 ©Dr Peter Magubane
Women still rely on locally harvested wood to cook food on open fires. In densely populated rural communities this has led to rapid deforestation, forcing people to rely on other fuels such as coal.
©Dr Peter Magubane
The production of clay pots remains widespread. Made by highly skilled female potters, they are used to brew beer, cool drinking water and ferment milk. Other uses include storing grains and dried beans.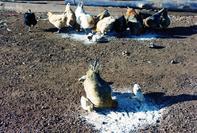 ©Dr Peter Magubane
Women almost invariably raise chickens. A ready source of protein from both eggs and meat, chickens generally forage for food but also rely on being fed and pecking at the discarded remains of maize porridge to supplement their diet.By
Professor Sandra Klopper