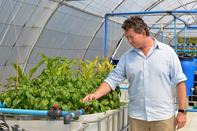 Henk Stander is the principal technical manager from the aquaculture division within the Department of Animal Sciences at the University of Stellenbosch.
He holds a Master's degree in Animal Production (MPhil) Aquaculture and has followed several aquaculture training courses in countries like the USA, China, Switzerland, Ghana, Kenya and the Philippines.
Henk is the current vice-chairman of the Aquaculture Association of Southern Africa and a member of the steering committee for the African Chapter of the World Aquaculture Society. He is also acting as an EXCO member on various local aquaculture industry associations such as the Western Cape Trout Association and the Catfish Association of South Africa.
He was a founding member of the Aquaponics Association of South Africa and has helped to design and construct the first aquaponics research system at Stellenbosch University. Henk was an extraordinary member of the EU Aquaponics HUB and one of the keynote speakers at their Aquaponics Conference in Slovenia during 2016.
He has supervised two Master-degree students from Stellenbosch University with research in aquaponics previously and gave technical assistance and advice to several other students with research in aquaponics.
Henk has published several popular articles on aquaponics in local agricultural namely the chapter on Aquaponics 'Geothermal, Wind and Solar Energy Applications in Agriculture and Aquaculture' (2017) published by CRC-Australia and 'Aquaponics' (2018) an EU Aquaponics Hub publication.