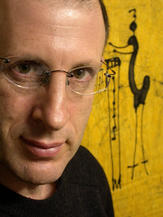 ©Eric Miller
Eric Miller ranks among the most prolifically published and experienced photojournalists in South Africa. In the mid-1980s Miller, pursuing a passion and engagement with photography, left a job in the corporate world for the 'real world of South Africa under a state of emergency', and joined Afrapix, a progressive photographers' collective committed to documenting the struggle against apartheid.
His work appeared regularly in the Weekly Mail, New Nation, and other progressive publications of the time. He documented the struggle against apartheid during the 1980s. From the 1990s, he has covered aspects of South Africa's transformation process, aside from extensive trips across Africa while assigned to various European publications.
Assignments have ranged from news-related stories regarding famine in Sudan and the Rwandan genocide to human interest features such as women's boxing, to the training of traditional healers, as well as evocative essays regarding operatic and dance productions. His work has covered 28 African countries plus numerous nations abroad.
His extensive archive of documentary stock and travel images covers countries such as Zimbabwe, Uganda, Sudan, Senegal, Rwanda, Eritrea, Sierra Leone, Nigeria, Namibia, Liberia, Congo (DRC), Botswana, as well as Cuba and Vietnam. Several years have been spent working on assignment both across Africa and within South Africa as a news photographer for international wire services and various European newspapers.
Eric then went on to focus on non-governmental organisation and magazine work. His work has been published in most major newspapers and magazines in South Africa and regularly used in a range of publications across Europe and the United States. Several exhibitions of his work have been held in South Africa, as well as in the Netherlands, Finland, and the United States.
Currently Eric still works freelance while developing projects that examine the processes that underpin, affect and influence grassroots communities. Most notable among these was a 5 year project with writer Jo-Anne Smetherham focusing on the work done by a group of grandmothers in Khayelitsha Township outside Cape Town.
The grandmothers established an NGO, Grandmothers Against Poverty and Aids, to enable and empower themselves to deal with the consequences of the HIV/Aids pandemic in their families, communities and in their own lives.
He is currently working on a project documenting the challenges faced by a rural Karoo community struggling to come to terms with the realities of a country transforming politically, socially and economically. He mentors aspirant young photographers and has had a number of books published in collaboration with various writers.