Beaded Neck and Body Rings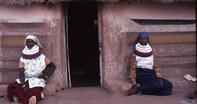 ©Dr Peter Magubane
The neck rings formerly worn by married BaNtwane and Ndebele women varied considerably in size and shape. Although none of the neck rings worn today by BaNtwane women are characterized by distinctive beadwork patterns, they are made in a variety of colours. Aesthetic rather than symbolic concerns appear to be the reason why women wear rings covered in white beads against the face.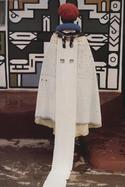 ©Dr Peter Magubane
Beaded neck rings are seldom heavy. Although bulky, they are usually strung over cloth or grass. Rings like these are worn in combination with other beadwork items like the long trains given to brides on their wedding day.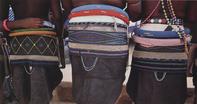 ©Dr Peter Magubane
There is a widespread practice among unmarried women to wear beaded and embroidered panels over their hips at coming-out ceremonies. This draws attention to their sexuality.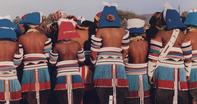 ©Dr Peter Magubane
On certain ceremonial occasions, young BaNtwane women wear several beaded body rings around their waists and on their upper arms. These rings are always worn with fringed skirts, decorated beadwork panels and long bifurcated leather back aprons.
Long Beadwork Strings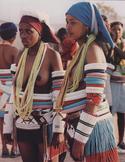 ©Dr Peter Magubane
Although beads are generally woven into elaborate shapes and patterns, the practice of wearing loose strings is also common. Because plastic beads are light, BaNtwane initiates often wear multiple long strings around their necks.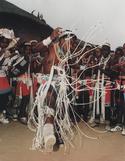 ©Dr Peter Magubane
Young Zulu women in the lower Drakensberg region wear long strings of beads attached to studded waistbands and breastplates. Inspired by beadwork associated with Xhosa-speaking communities further south, these beaded strings create spectacular effects during dance sequences.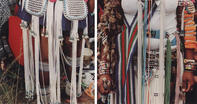 ©Dr Peter Magubane
In some cases, loose beadwork strings are weighed down with beaded tassels. In others, breastplates act as anchors, thereby preventing the strings from getting entangled in the legs and arms of dancers.By
Professor Sandra Klopper