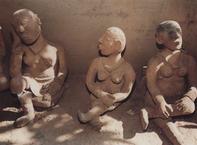 ©Dr Peter Magubane
Venda artist Noria Mabasa makes clay figurines for sale to art collectors. She is also famous for carving images in wood, a medium traditionally reserved for male artists. Many of her comparatively large carvings are fashioned from driftwood.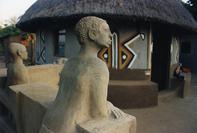 ©Dr Peter Magubane
Over the years Noria Mabasa has embellished her homestead near Thohoyandou in Limpopo Province with figures fashioned from a mixture of clay and cement. Some courtyard walls are also dotted with sculptures and reliefs depicting domestic and wild animals.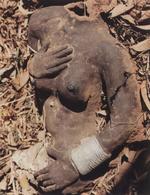 ©Dr Peter Magubane
Noria Mabasa's fired clay figures can withstand severe weather conditions, including torrential rain. Discarded fragments scattered around her compound attest to the accidental toppling of free-standing figures by her boisterous dogs.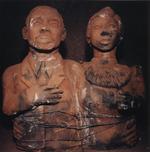 ©Dr Peter Magubane
Historically, clay figurines were produced for use in initiation contexts and as fertility dolls, but today many are inspired by Western traditions of portraiture and other non-indigenous sources.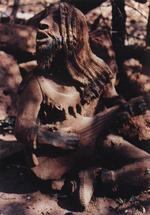 ©Dr Peter Magubane
Noria Mabasa's fired clay figures dating to the 1980s include depictions of musicians, policemen, doctors and nurses. It was sculptures like these that initially catapulted her to fame, ultimately leading to numerous large-scale public commissions for her work.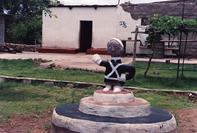 ©Dr Peter Magubane
In the past, some Ndebele artists produced caricatures of white politicians, poking fun at their sense of self-importance.By
Professor Sandra Klopper