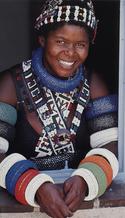 ©Dr Peter Magubane
Throughout South Africa, young unmarried and newly married women remain major consumers of beadwork which they wear on ritual occasions like coming-out ceremonies and following momentous events like the birth of children.
In the past, girls learnt to make their own beadwork at a very early age, generally under the supervision of their mothers, most of whom were able to teach their daughters a variety of beadwork techniques.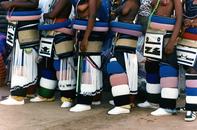 ©Dr Peter Magubane
In some communities, long hours are still spent making beadwork items worn on ritual occasions. While the production of some pieces involves the use of comparatively simple beading techniques, the completion of others requires a great deal of thought and effort. Should they run out of time or the money needed to buy beads, most women improvise by using plastic and other materials.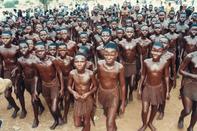 ©Dr Peter Magubane
Initiates often wear beadwork in combination with other garments. Many of these are made from either natural fibres or the tanned skins of goats and other domestic animals.
©Dr Peter Magubane
Young men who have gone through initiation rely on their mothers to make their beadwork or to provide them with gifts of this kind. These initiates wear at their coming-out ceremonies.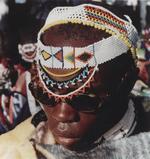 ©Dr Peter Magubane
Among the South Sotho, there are considerable variations in the style and colour of the beadwork pieces worn by initiates. Beaded items used on these occasions include headbands. Some of these are fringed, while others incorporate elaborate loops and other extensions.By
Professor Sandra Klopper