Baboon Valley
Baviaanskloof got its name from the Dutch word, meaning 'Baboon Valley' due to the large baboon population living in the area. The baboons were later culled for their skins and used to make a variety of leather goods.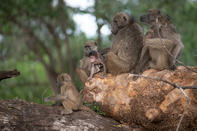 ©Shem Compion
Little evidence exists of the first inhabitants of the greater Baviaanskloof region, but people most probably occupied the area some 2-3 millions years ago. The oldest evidence of people living in the greater Baviaanskloof region comes in the form of large stone tools which can be found throughout the region, dating to some one million years old.

The world's oldest remains of anatomically modern people (first Homo sapiens sapiens - people anatomically similar to us) were found on the fringes of the region and date to some 120 000 years old and are believed to be the early ancestors of the KhoiSan people of southern Africa. The past 10 000 years however provide the most comprehensive information of the first indigenous people of the region - the San, Khoi and KhoiSan. There are numerous signs and sites that are evidence of the early human inhabitants; to date over 200 heritage sites have been located in the area and it is believed that this only represents 10% of those in existence.

Today, Baviaanskloof contains numerous archeological sites. Towards the 18th century, European settlers had moved into the region. The lands were ideal for vegetable farming and goat herding. Today the area is still dominated by farming, while growing into a popular tourist spot. Presently, Baviaanskloof is managed by the Eastern Cape Nature Conservation.
Bain's Great Legacy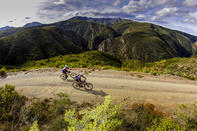 ©Jacques Marais
Most of us leave nothing much at all to mark the passing of our lives, which is maybe not a bad thing given the general mess we make. However, Baviaanskloof, in the Eastern Cape, was the 21st of 24 major mountain passes and poort routes that Thomas Bain bequeathed us, and a more magnificent legacy it would be hard to find, anywhere in the world.

While Swartberg Pass is generally considered to be his engineering masterpiece, the 140-km-long Baviaanskloof is the most sought after off-the-beaten-track route these days. Much of its appeal is that the human impact on the environment here is minimal, and it is now a major mountain Wilderness reserve where nature holds a firm grip.