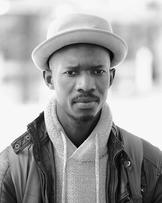 Andile Bhala is a documentary and street portrait photographer based in Soweto, South Africa. He has always seen things in a different way and found it easy to project his perspective of things through photography. He started engaging visually using a cellphone camera and fell in love with photography.
Through years of practice, he has become driven by a deep passion to tell real stories with all their layered complexities. Along the way, he saved a bit of money and bought an entry level camera to pursue his love of documenting everyday stories in the townships. Andile describes his life as a photographer as follows: "Photography has been a beacon in his life.
The streets of Soweto with their bustling life, noise, smiles and legends in the making compel me to traverse this vast space in search of stories.
My bicycle, music playlist, red backpack and lenses are my companions as I seek beyond the obvious stereotypes. I document the truth with an unwavering belief in the power of the human spirit to overcome the mundane and the complex. I defend Soweto when it's in deep slumber. I believe in people and the simple aspects of Ubuntu in everyday life.
Street photography allows me to observe and document life in all aspects of grandeur and the minutiae tenderness and joys of being. Through the camera, I seek to find myself and continue to learn from the streets. I'm drawn to moments that tell stories of dualities and contrasts of life in Soweto. The rawness of the streets is integral to the work.
I try not to manipulate the image. The reality in the image must not be lost. I challenge myself to see beyond the cacophony of the environment to capture beauty. My subjects have a story to tell, some tender and some harsh. My goal is to share a slice of Soweto in a positive way. If I can inspire a young boy to choose photography over drugs then my duty to Soweto will be meaningful.
I want those who see my work to look more carefully at the world around them, to discover the beauty in the most unlikely places". Andile was a runner up at Open Society Foundation's "social justice through the lens" competition in June 2016.
He was also a finalist at the Standard Bank Gallery's "Portraits in Progress" competition. He formed part of an incubator programme hosted by the Market Photo Workshop, with a group exhibition held in the period 2017-2018.