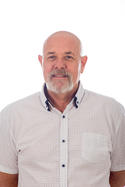 Alan has been involved with agriculture for more than four decades in four countries. His core focus has been on the development of soil health and soil fertility. His subject matter specialisation is in agroecology and its link to social, environmental and economic sustainability with recognition of the much needed ethical component.
Alan began teaching early in his career and specialized in the following technologies which he presents in training courses to students and clients; permaculture, Kyusei nature farming, organic agriculture and biodynamic agriculture.
Alan was lucky enough to study biodynamics with Professor Herbert Koepf. Alan is also the lead and co-author of 'Organic Agriculture a Handbook'. Other books include 'Global Health in Crisis - The Answer Lies in the Soil 'Biodynamic Agriculture - A Conscious Choice' and 'AGROECOLOGY - The Promise of Future Flourish'.
Alan was invited to write the opening chapter for a book entitled 'Agroecology, Ecosystems, and Sustainability in the Tropics' published in India.
Alan Rosenberg is the chairman of SAOSO (South African Organic Sector Organization) a joint venture between Department of Agriculture, Forestry and Fisheries (DAFF), Department of Trade and Industries (DTI), Rural Development and Land Reform (RDLR). Department of Cooperative Governance and Traditional Affairs (DCoG) and stakeholders from various constituencies interested in organic produce and agro-ecology practices.
Alan trains, teaches and lectures and specialises in work related to agroecology. He works out of Lindros Whole Earth Consultants.