Just a Few Slices of Bread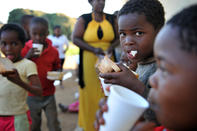 ©Eric Miller
Children tuck into a meal of bread and sugary water, donated by a local soup kitchen.
Late one day, as the sun begins pulling back into the west, a little girl, Temvelo, and her stepbrother, Stewart, fall into a cacophonous line of children on the local football pitch not far from their Matsapha home. It is the familiar site of Cindy Simelane and Thandi Mlambo, who volunteer at the local soup kitchen. The women lead them down the water-carved road and into the doorway of a rectangular building with a hem of dusty lilac paint. The process is orderly and quiet. Between them, they must have done this a thousand times. The children line up in single file, youngest first, waiting for the ladies in their brilliant green T-shirts to pass into each waiting hand a few layers of plain sliced bread and a glass of orange cordial drink.
The volunteers' shirts ululate with the establishment's name 'Restorative Care Point'. 'Let the children grow!' the payoff line proclaims. Sometimes there is an apple or orange to go with the bread, other times they will get a cooked meal, but most days it is just these few slices of bread washed down with some form of sugary water. Always, though, it is donated food. Behind the volunteers, an otherwise stark room is piled up with dozens of loaves of sliced brown and white bread, which will have to be given to the children before it becomes too stale to eat.
There is a clear plastic bag filled with blocks of ageing cheese that are greening over in the warmth of the closing day. If the local store whose name was on the packaging saw this, there would probably be hell to pay. But by now the cheese is unusable, so a debate about how the cheese found its way into this storeroom or came to be in this condition is academic. There is a wheelbarrow outside with a 25-kilogram bag of mealie meal and a half bag of sugar beans, donated by a local authority after a complicated bureaucratic application process. This means a warm meal tomorrow or the day after, with a dash of protein.
Retail Food Disposal
Not one kilometre up the road, at precisely the same time, a daily ritual is taking place at the local Mashayaitfula Pick 'n Pay: the warm stainless steel trays of battered baby hake, gargantuan turkey drumsticks, chips, chops, barbeque chicken pieces, fried beef and grilled wors (sausage), all being thrown out ahead of the end-of-day clean-up. The steaming fare is still fit for consumption, but by the close of shop each day all this food is bundled into clear plastic bags, which are knotted closed and tossed into a skip in the loading bay at the back of the store with bags of stale bakery goods and any fresh fruit and vegetables that are beginning to turn.
The following day, a local municipal dump truck arrives to cart the stuff away. It is a deliberate process: any food that is on or past its 'best use' date must, by law, be condemned. The truck driver issues a destruction certificate for the food and takes it away to the Matsapha landfill. Once it is dumped into a pit at the landfill, it is sprayed with lime, crushed and buried under a layer of sand. There is supposed to be 24-hour security stopping people from scavenging these dumps for food.
Up in his office above the shop's stores, Pick n Pay branch manager Sherme Strydom sits in a room that is flooding with the warm smells of baking bread and explains how the disposal of food happens here every day. 'We throw away the hot cooked food from the deli and the bakery daily,' he says. 'If a fish is cooked today...or a burger and chips, for instance, it has to be thrown out today.' Bakery foods might last a little longer, but there are pretty stringent policies in place regarding how long stores can hold onto these kinds of foods because of spoilage and food safety standards.
Retailers Liable for Illnes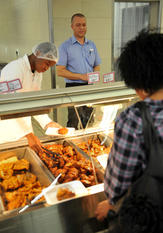 ©Eric Miller
Sherme Strydom, branch manager at the Matsapha Pick n Pay, explains food safety regulations.
Even though the soup kitchen is just minutes away, Pick n Pay cannot send its leftover foods to them to dole out to the children. It seems unfathomable to have 60 hungry and poorly nourished children queuing for a supper of dried bread just down the road, when several kilograms of still-safe, warm, protein-rich (if slightly too fatty) food is dumped from this store each day. But the problems with food like this going out to soup kitchens and other needy communities are complex.
Once high-risk food like this leaves the store, there is no way of knowing how it will be handled, whether the cold or warm chain will be maintained in the moving of that food, and whether it will be eaten before it finally starts to turn and becomes hazardous. All it takes is one small serving to be kept for a day or two beyond its safe window, in a soup kitchen's unrefrigerated stores before being given to a child, for a medical emergency to happen. And the retailer will be liable.
The experience of Gareth Haysom a few years ago in South Africa demonstrates how easily an act of charity can go horribly wrong. Before moving into the world of things green when he joined Stellenbosch University's Sustainability Institute on its agricultural programme, Haysom worked in hospitality management on the restaurant side of a prominent wine farm in the Stellenbosch region of the Western Cape. 'We donated leftover food from the restaurant to an old age home in the area. But someone in the kitchen at the home held onto the food for three days. By the time they served it, it had started to go bad and a few people became ill. We got a lawyers' letter because of this.' Gareth recalls handing the matter over to the company's legal team to deal with, but that put an end to handouts from that particular restaurant kitchen.
Contamination Risks
There was a time when a cluster of four local Pick 'n Pay stores in the Manzini area had a policy of donating food to orphanages and care centres, but the local town board put a stop to it in early 2010. When the issue is later put to Matsapha Town Board environment and public health manager Lungile Gumbi and public health inspector Zama Radebe, they explain that during their inspections of various food outlets around the town, from time to time they have come across food that was not fit for consumption.
'When you ask the owner what they do with this food, sometimes they say they give it to orphans or to poor people,' says Radebe. 'They do this because of ignorance of the law. And it is difficult for a businessman to just throw away money like that with their damaged or expired stuff.' Gumbi chimes in, saying their office receives a lot of complaints from the public after eating unsafe foods. 'Sometimes shopkeepers remove the "best before" date and then sell the food to people whose first point of contact is the town board. We have people come here saying they bought something from a specific shop and it gave them stomach problems.'
A recent study of the state of cooking oils in some establishments around town turned up compounds that indicated they were not safe for consumption. 'We are very unhappy giving out food to the less privileged that naturally we wouldn't eat ourselves. That made us reinforce regulations about allowing food that has passed its "best before" date from being given out to the public.' If it is not good enough to sell, it should not be given to the destitute either. And with the cooked food coming off a hot deli every day, unless it is eaten right there and then, the risks of contamination become high. And it is not feasible to have the soup kitchen children queuing outside the Pick n Pay at the end of each day.