A Peculiar Kind of Normal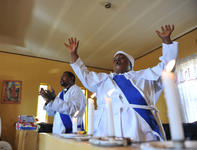 ©Eric Miller
Mapheello Qhasane heads up the weekly church service in her lounge.
The morning after her husband's departure, when things have returned to their own peculiar kind of normal – with Mapheello heading the house and the gash left by her husband's departure beginning to heal over once more – the woman relaxes back into the embrace of a marshmallowy armchair in the lounge, which served as the church yesterday morning. The candles in their chipped enamel holders have gone, but a very European-looking Jesus still peers down from his lofty spot above the display cabinet. 'I am the bread of life,' he says, a thorn-entangled heart glowing over his chest.
Mapheello's story is like so many other women of Lesotho: their men go off to the mines. It is just how it is. Her father was out there in South Africa, deep in the bowels of some or other mine, rigging up reinforcements for a rock roof when the world above him gave in. 'I came from school and I saw people gathered at my mother's house,' Mapheello delivers in a guarded seSotho. She thought the huddled crowd meant that her grandfather had slipped away. 'I was surprised that my father could die before my grandfather. Because supposedly my grandfather had to die before my father.'
Death of a Father
It was hard after the death of her father. The occasional trickle of cash – sometimes delivered by hand, by a colleague; sometimes in person when her father came home for Christmas – dried up. After that, they really struggled. 'We wouldn't get Christmas clothes. We wouldn't get Christmas food. We wouldn't have shoes for school. It was miserable because other families would have their fathers' arrivals on Christmas while we would have none. And some families would cook nicely, good food, while we would have none.'
Throughout the history of gold miners trekking to the Reef from Lesotho, miners' wives have found themselves on the muzzle end of a horrendous Russian roulette: to benefit from being on the receiving end of the remittance system, and the greater security that comes with it, but to always be one disastrous rockfall away from losing it all and being even worse off. Although she noticed it particularly keenly at Christmas time (back then, miners often only came home once a year, at Christmas time, rather than monthly the way her husband does now), when women become 'gold widows' they are often cemented into a more permanent state of poverty.
Creation of Migrant Labour
The migratory back-and-forth flow of men like her husband was a politico-economic construct that started in the late 1800s. In a stroke of wily fiscal genius, the British colonial administration introduced the hut and poll taxes at the turn of the century. (Well, it is genius if you are the local bean counter; it is not if you are the payer of the beans.) Black farmers were forced from one economy into another – instead of subsisting off the land in a cattle-as-currency existence, communities were forced into joining the cash economy. Now, at least one family member had to be a wage earner so they could meet the state-imposed tax, which had to be paid in cash.
Just like that, the state created a pool of cheap, unskilled labour to satisfy the new mining economy's insatiable appetite for workers; it provided the settlers with their fair share of labourers; and it gave a nice injection of cash to the colonial coffers. By pushing a policy that discouraged the migration of women along with their husbands – or their children or elderly parents, for that matter – the colonial state made sure there was a loose mooring rope that would keep the labouring men trekking back home.
Because of the patriarchal nature of many traditional communities, women were left behind without any way of securing access to land, or without the wherewithal to open bank accounts on their own. The result was that women became completely dependent on their husbands, in terms of how much money they sent back home from the mines, or how often, if at all. But, in many cases, their husbands would settle down on the mines, starting up new relationships and second families, leading to high rates of abandonment, separation and divorce, according to the United Nations' International Research and Training Institute for the Advancement of Women in its special report on Lesotho in 2010.
Devastating Consequences
Women who lost their husbands – either to death in the mines, or to their second lives in the city – found themselves with 'few independent livelihood opportunities within Lesotho and were generally marginalized and sunk to the poorest strata of Basotho society'. Wrenching the menfolk away from the homestead had devastating consequences for family life in Lesotho, dividing families, weakening domestic social structure and organization, undermining agricultural production and productivity, compromising health, exacerbating rural poverty and intensifying gender inequality.
Ultimately, many see it as having hindered development in the region, rather than promoting it. Lesotho was once the "granary" of Southern Africa, the home of a productive agricultural peasantry producing crops for export but was reduced over time to an impoverished labour reserve for South African industry. The central question for many researchers now is not 'why are the Basotho still poor?' but rather 'how have the Basotho become poor?'
Mapheello and her mother, Majoalane, experienced the hardship of a shattered family first-hand. Majoalane never remarried. Mapheello was just ten when her father's crushed body was shipped back from the mines for burial.
What it Means to be a Mine Worker's Wife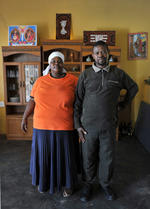 ©Eric Miller
Mapheello and her husband, Thabiso.
Mapheello knew what she was in for when the twenty-something Thabiso saw her walking past a field where he was working while home on leave one day. She knew what it meant to be a miner's wife – the days, weeks, months and years of having a husband-shaped void in the marital bed, at the dinner table, when the teenager needs disciplining, when the skollies (thugs) come by to steal the livestock at night.
She knew what it would be like to wonder if that news might find her one day, the news that her husband had had the life driven out of him by a world of falling rock. But she knew, too, that by marrying Thabiso, she would be taken care of. There would be money coming in.
How did she feel when he asked her to marry him? 'I was happy. Because he was working and from what we know, there was future in a man working in the mines then.
They were working, they had money.' The life of a miner's wife may be filled with longing, heartache and fear, but it is a better life, a wealthier one, a safer one, than that of many of the wives of those men who have no job prospects here in the mountain kingdom. Many of her friends are also mineworker wives, so there is a sense of solidarity at least. They can talk about what it means to live like this.