Children Stunted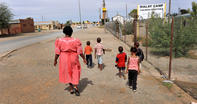 ©Eric Miller
Maria Philip herds children in for a bath and a good meal.
If a child does not get the right nutrition in those critical formative months between conception and the age of two, he or she could end up with a brain that is permanently underdeveloped. A cognitively disadvantaged child like this will arrive at school with a lower IQ, will get a poorer education and be less employable as an adult. The World Bank estimates that someone could experience 'productivity losses' amounting to over 10% of his or her potential earnings over the course of a lifetime. But at least a quarter of southern African children are stunted due to malnutrition. And yet getting good nutrition to young children is a relatively cheap intervention.
Maria Philip does not have an easy job, as surrogate day-mother to a revolving clutch of under-thirteens who come through the Malay Camp Children Ministries in Nonzwakazi, the black township about twenty minutes' walk from neighbouring Malaykamp. Today is the first day of the second school term, a Monday, and she does not know how many children will turn up. By mid-morning, when no one shows, she strolls off to a few homes where she knows some of her regulars will be hiding out. The rest of them, hopefully, have gone back to school.
Dirt-smeared Faces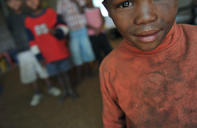 ©Eric Miller
Richie, about five, arrives at the ministry wearing the same clothes Maria sent him off in a few days earlier.
Before long, Maria is heading back down the worn gravel pavement, five youngsters strolling in a loose constellation slightly ahead of her like lambs wending their way back to the shed. She herds benevolently from a close distance. Behind them, a Department of Social Development billboard warns Utywala abusetyenziswa, Ukuse ungazisoli!, and again in English 'Drinking alcohol during pregnancy can cause birth defects and brain damage'.
At the front of the group is Richie, who says he is five, although it is hard to tell. The boy's face is as dirt-smeared as his polo-necked shirt, once the colour of orange squash. The strata of several days' grime have built up into coal-grey layers, flecked with watermarks here and there where he has spilt something on his chest. It is the same top Maria sent him home in several days earlier, before the school holiday started. But his eyes, sassy and laughing, twinkle out from beneath the crusty exterior.
One sleeve rides up to show what looks like a wobbly roadrunner, tattooed in temporary black ink. A few illegible, crooked letters clatter their way up one scrawny arm. Later, when he strips off his shirt, he uncovers another hand-drawn tattoo, one which looks unnervingly like an erect penis, apparently the artistry of eight-year-old Alain, who is also here with his sister Mona, six. Maria clucks her disapproval, but knows that this is just how it is for them, living in such close confines with the grown-ups in their lives.
'When the adults sit around drinking, sometimes they just.. . ' Her hand traces an invisible U-turn in the air to show how couples will occasionally slip off around a 'discrete' corner in the slum and copulate out in the open. 'And their parents might have sex in front of them. They know all about sex, these kids.'
Today's Menu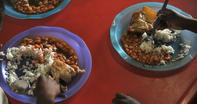 ©Eric Miller
Six youngsters make quick work of the lunch served up at the ministries.
Richie and the other four have been coming to the ministry, sponsored by construction and engineering group Grinaker, for a while now (it is hard to fix down a precise age for each of the children, or how long they have been coming here). The shelter gives youngsters like these from Malaykamp a place to go to during the day, Monday to Friday, for a plate of warm food, a bath and a change of clothes. Ideally they should pop by after school, but sometimes the classroom is not high on the list of places to be.
'Every day we give them pap (porridge). We change sometimes and give sandwiches, or bread and eggs. Then we give them some rice and potatoes and some salad and a bit of meat,' Philip explains at the start of the day, stirring a few chicken thighs into fried onions, before bolting down the lid of the pressure cooker. 'Another day I'll make stywe pap met spinasie, or vetkoek en vis, ander dag kook ek mielies en boontjies en ek maak sop.' ( 'Another day I'll make stiff porridge with spinach, or vetkoek and fish, on another day I'll cook mealies and beans, and I make soup.')
Today's menu is chicken, fried potatoes, rice and baked bean salad flavoured with a handsome top-up of sugar and vinegar. But while the chicken is browning off in the beef stock and onion gravy, Philip and her assistant Maggie round up three of the mob and steer them into an adjacent bathroom block (the brother and sister are clean enough to not need a wash today). Here the boys slough their grimy clothes at the door and line up, three to a tub, where they get a rough scrubbing down, and are dried off and rubbed with Vaseline before being pulled into a fresh set of clothes.