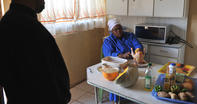 © Eric Miller
Mapheello Qhasane gutting a chicken for dinner while Thabiso looks on.
Sunday Morning
On Sunday morning, Thabiso Qhasane's last day at home before he packs and heads off back to Carltonville to sign up for another year of work as a miner, he seems calm and undisturbed by rumours that more retrenchments are expected. There are too many stope leaders, he has heard, but he nevertheless seems fairly confident that his annual contract will be renewed.
Both he and his wife of some two decades, Mapheello, have shed their dog collars and white tunics after leading the morning's worship of the small congregation that meets at their house twice a week. The 39-year-old woman is in the kitchen now, where she is giving a recently slaughtered chicken a good dressing-down. Battleship broad and swaddled in utility-blue button-up shirt and skirt, her head wrapped up in a white doek (headscarf), Mapheello's fingers glisten with the moisture of the bird she is busy gutting.
A sausage of derm (intestine) twists back and forth on itself on the plate where she has dropped it, next to the featherless creature which just moments before had been fully footed. Still neatly intact, the guts run up the entire length of the digestive tract until they end with the crop, a bloated punctuation mark where the transparent membrane is pulled drum-taught over the bird's last meal: whole maize kernels, looking like they have only just arrived on the other side of the animal's throat. These intestines, Mapheello explains when prompted, will be cleaned and popped away in the fridge, to be cooked up for some or other meal during the week.
Making a Comfortable Life
Surveys of household food security in Lesotho show that for some families, a migrant's monthly cash infusion allows them to live a slightly more comfortable life. But for many others, it is quite literally the last line of defence against gut-clawing hunger. The Qhasanes are not wealthy by any stretch of the middle-class imagination, but they have been able to buy a few things to make their life more comfortable.
Thabiso built this rectangular house – with its untreated grey-block bricks still exposed on the outside, but plastered up and painted a dusty ochre inside – two years after he and Mapheello married and moved to town from the Berea Plateau where they both grew up. The kitchen's steel cabinet counters are largely bare, but there is a gleaming new convection microwave, a slightly weathered fridge-freezer combo, and one of those workhorse four-plate stoves, all with the usual recognisable brand names.
Home-Cooked Favourites
The Qhasanes are plugged into the grid, so they have the power they need to cool, heat or cook food. But there is no running water, so they keep a bucket under a table in the corner of the kitchen which they fill from a rainwater tank under a gutter at the back. Everything for this evening's meal will be boiled on the stove top in aluminium pots: pasta, chopped raw onions and green peppers boil down to a gravy in one pot; pumpkin in another; white rice, which will take up most of the space on the plate later; chicken pieces in another pot with water bubbling around the shrinking skin; potatoes; some tomatoes and chillies from the garden; oil, Knorrox, salt and some Rajah mixed spice for flavouring.
From time to time, their oldest daughter, Mamello (sixteen, turning seventeen soon), beats a tub of swollen bread dough, pummelling its ballooning contents back down. The raw bread has been resisting her efforts over the course of the morning, slowly frothing back up like a beer that has been poured too fast. It has been rising since yesterday and when it is time, Mamello pulls a sticky dollop away, moulds it into the shape of a punctured ball and places it inside a pot on the stove top.
Then another, and another, and a fourth, all squashed together inside the pot. This steamed bread is one of Thabiso's home-cooked favourites. Pop a bit of water in the pot with a wire frame that sits slightly off the pot's bottom, drop a damp cloth over the frame; dollop the dough onto the cloth in four balls; put the lid on and leave them for a few hours to jostle for space until they push up and crest the top of the pot. Eventually, the bread will cook through.By
Leonie Joubert