Paarl Wine Route is renowned for rich, full-bodied, spicy red wines and crisp white wines. It is the second-oldest wine route of South Africa and is situated in the beautiful and scenic wine farms of the Paarl Valley.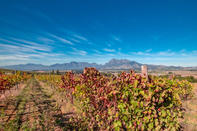 ©Chris Daly
Vineyards in Paarl Valley.
The wine estates produce world-class shiraz, chenin blanc, chardonnay and pinotage. Paarl has played a vital role in the establishment of the wine industry in South Africa. The first commercial wine cellar was built by the co-operative KWV in 1918.
More recently, the region made headlines with the first bottling of viognier, a Bordeaux blend and nouvelle, in the country. Internationally, Paarl is home to the first white pinotage, pinotage-fortified dessert wine and the first wine blend of tempranillo, tannat and tinta amarella.
Nederberg Wine Estate
Nederburg is one of the best known wine producers in South Africa. The farm was renamed in 1791 after it was sold to Philippus Wolvaart by the Dutch East India Company.
The estate produces an excellent range of wines, including the Ingenuity Range, Manor House Range, Nederburg's Winemaster Reserve Range and Foundation Range. Visitors can pair their wines with a variety of eats, such as mezze platters, picnics or a gourmet seven-course meal. Guests can also tour the farm, cellars and old Cellar Museum where they can witness the farm's journey from 1791.
Laborie Wine Estate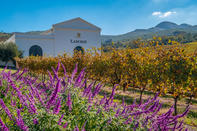 ©Chris Daly
Laborie Wine Estate in Paarl, produces a range of top-quality wines and brandy.
Laborie Wine Estate produces top-quality wines such as Méthode Cap Classique Sparkling wines, white, red and fortified Pinotage dessert wines. They are also part of a small group of estates that produces brandy in the region. The farmland was given to a settler in 1691 and was named after the French district La Bri.
After clearing bush beside the Berg river to make space for vineyards, they planted grapes. After 7 years, their first wine was produced. In 1972, KWV bought the estate which propelled Laborie into the international market. The estate has a beautiful guesthouse, a restaurant and a craft market held every Saturday. Bring the family and enjoy a mix of entertainment for the kids and fresh produce and lifestyle goods for you.
Other Top Estates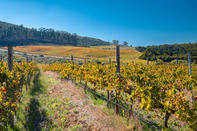 ©Chris Daly
Vineyards on the Paarl Wine Route.
Simonsvlei Winery: This winery is named after Cape Governor Simon van der Stel and is situated in the Paarl Valley area. During the post-war period of 1945, a group of grape farmers established Simonsvlei and aimed to produce larger amounts of quality wine that would still be affordable. The farm produces wine varieties such as Cabernet Sauvignon, Shiraz, Chenin Blanc and Chardonnay. Wine tasting and lunch at the winery is a great Saturday afternoon activity.
Rhebokskloof Wine Estate: Rhebokskloof farm was founded in 1797, and has been restored beautifully - the farm is now a modern producer of quality wines. Visitors can enjoy a glass of wine beside the lake under the Willow trees, and a range of activities - quad-biking, horse-riding and picnicking.
Landskroon Wine Estate: Landskroon is located on the slopes of the Paarl mountains, an area known for producing excellent big reds and port. The soil and climate of the estate allow the owners to produce superb Shiraz and Pinotage. The estate offers cottages for an extended stay, wine tastings and kid's picnic baskets.
Nwanedi Wine: A newer winery in terms of its neighbours, Nwanedi started producing wine in 1996 and in 2005, they released their first vintage. They produce wine free of additives in keeping with the organic development of the natural wine process. They offer a beautiful stay at Nwanedi Country Manor, a restaurant and tour of the estate.