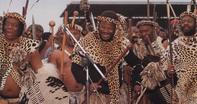 ©Dr Peter Magubane
Dignitaries like Zulu King Goodwill Zwelethini and, until recently, others like Chief Mangosuthu Buthelezi and Prince Gideon Zulu, still wear leopard skin garments on special occasions. Leopard skin is also commonly used by members of the iBandla lamaNazaretha, an independent church with headquarters in Inanda, close to Durban. Although in 2016 the International Union for the Conservation of Nature's Red List of endangered species classified leopards as 'vulnerable', local conservation efforts have been hampered in part by the demand for leopard skin in these contexts.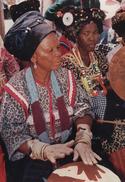 ©Dr Peter Magubane
Because leopard skin is expensive and recent conservation efforts are making it increasingly difficult for people to purchase these furs legally, those who wish to signify their social or ritual status by wearing leopard skin garments now tend to make them from cotton cloth printed with leopard markings. People also mark antelope skins with leopard-like spots.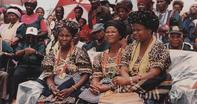 ©Dr Peter Magubane
In the past, fake leopard skin garments, including t-shirts, were worn mostly by men. The practice among women of sewing garments from cloth with leopard markings is fairly recent.
©Dr Peter Magubane
Making garments from the leather of domesticated animals, notably goats and cattle, is still comparatively widespread. The skins of these ritually slaughtered animals afford ancestral protection to their living descendants.