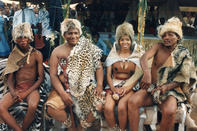 ©Dr Peter Magubane
Some traditionalists still hunt in densely forested areas. More generally, though, they purchase skins from either licensed merchants or traders who hunt leopards and other wild animals without permits.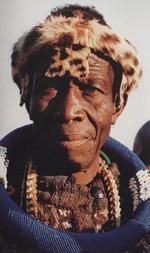 ©Dr Peter Magubane
Wild furs are among the indigenous materials used in the production of clothing worn on special occasions. In some communities, furs are also commonly worn by healers. When in public, the herbalist (nyanga), Mjanyelwa Ndimande-Mtswemi, who was an advisor to former Ndebele king Cornelius and the husband of the acclaimed mural artist Francina Ndimande, always dressed in furs and beads.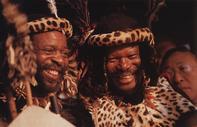 ©Dr Peter Magubane
Zulu King Goodwill Zwelithini and Chief Mangosuthu Buthelezi often attend public events wearing furs and feathers. Before restrictions on hunting, garments like these were prepared by craft specialists. Clothing made from leopard and other skins are still sold at the annual festivals of the iBandla lamaNazaretha, an independent Zulu church with headquarters in Inanda, close to Durban in present-day KwaZulu-Natal.