Legend of Trunko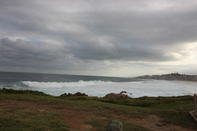 ©Ann Gadd
Lucien Beach at Margate, KwaZulu-Natal.
The town of Margate was founded around 1919 when Hugh Ballance bought a farm near the Nkhongweni River mouth. He bought it for beautiful coastal scenery, and not so much for its agricultural potential. In 1921 Ballance subdivided the farm into half-acre plots to form a settlement. As the area was quite isolated, sales were not great. However, in 1922, the town made headlines when a large white-haired creature was spotted fighting two whales close to Margate's shores. The creature was killed and washed up on the beach, and was named Trunko because of a distinct trunk-like shape attached to its body. It lay on the beach for more than a week, but no positive identification was ever made. This strange occurrence attracted people to the area, and Margate slowly grew into the quaint coastal town it is today.
Today, city dwellers flock to Margate for their holidays. It's become one of the country's premier tourist destinations and offers visitors a wide choice of accommodation to suit all tastes and budgets. These range from the personalised touch of cosy B&B accommodation, through to all-mod-con self-catering accommodation, guest houses, lodges, hotels and camping and caravan sites.