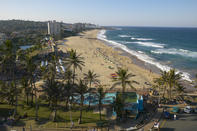 © Roger de la Harpe
Beach in Margate, KwaZulu-Natal.
Margate is one of the most popular coastal resorts on the KwaZulu-Natal South Coast. Proclaimed a town in 1941, it was named after the seaside resort of the same name in England.
Margate boasts with beautiful and immaculate beaches including a blue flag beach. The warm Indian Ocean flows across this coastline, providing it with an abundance of tropical fish and coral reefs. Vast shoals of game fish and large groups of sharks can be found around diving sites such as Protea Banks. Scuba diving, snorkelling and diving is a must in Margate.
The Nkhongweni River forms a magnificent lagoon at its mouth, which can be explored in canoes or paddle boats. The coast is popular with rock and surf anglers – especially in winter when schools of shad follow the Sardine Run – as well as with ski-boat anglers. Strung along the coast south of Margate are the seaside resorts of Ramsgate, Southbroom, Marina Beach, San Lameer, Trafalgar, Palm Beach and Munster.
Margate has immaculate beaches with warm waters, plenty of sunshine and an endless-summer vibe. Lucien Beach has been awarded Blue Flag status, meaning that it has achieved excellence in its hygiene, safety, facilities, and educational value....
more
The town of Margate was founded around 1919 when Hugh Ballance bought a farm near the Nkhongweni River mouth. He bought it for beautiful coastal scenery, and not so much for its agricultural potential....
more