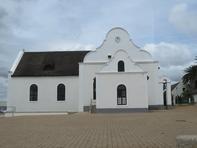 Elim is situated along a dusty, winding road between Gansbaai and Bredasdorp. The town was founded by the Moravian Church of South Africa in 1963 and most of the buildings date back to the 19th Century. The historical town has quaint little lime washed cottages with thatched roofs situated on long narrow plots and all the roads in the village lead to the thatch roofed church. On Sundays the Elim Brass Band plays at the Church.

You will also find the Slave Monument in the little Overberg dorp of Elim, which was originally settled as a Moravian mission.

The water mill, built in 1833 and restored in 1990, has the largest waterwheel in South Africa. It is one of the last working water-wheels in the cape and uses heavy, slow-turning grindstones to produce traditional stone ground flour. The mill was declared a national monument in 1974. Guided tours are available.

Did You Know: Elim is becoming known for the export of fynbos and is an emerging area in the production of wine.
Elim is an attractive and picturesque town and is only inhabited by members of the Moravian church. It is one of the prettiest of the surviving old-time South African mission stations....
more
Like Genadendal, Elim is a mission station, belonging to the Moravian Church. Unlike Genadendal, however, Elim is still very much as it was when first founded in 1824, on the farm Vogelstruiskraal....
more