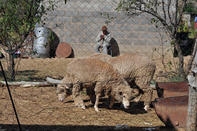 © Eric Miller
Two of the remaining flock, depleted after a midnight raid the previous winter.
Risky Business
The following story of demonstrates the kind of economic decisions made in a rural Lesotho household, with a husband who works as a migrant miner.
Mapheello bought some birds as chicks because it is much more affordable that way. 'A two-day-old is R3. For one which is more than two weeks old, it's around R15,' she says, going back in her mind to recall the prices. An adult chicken, ready for slaughter, will cost around R45. 'It's expensive.' The last time she bought a few chicks, one of them was a cock, so they multiplied, she says. They were kept for their eggs, but the birds kept breaking the eggs after laying them, so her husband Thabiso decided they should be slaughtered. 'Thabiso now wants to have poultry for meat. I first have to fix that building in my yard and then I'll think of buying the chickens.'
But it is risky business, farming in such a densely populated and poor neighbourhood on the outskirts of Maseru. They often have mealies stolen, and many of the chickens were taken, says Mapheello. But the biggest knock came last winter, in the dead of night, when thieves came by and pillaged their small flock of sheep. They had been building up the flock for a while, investing a chunk of the budget into animal feed. One night, in mid-July, they heard a lamb crying out. When they dared to go out the next morning to check, there were only four sheep left in the small shed out at the back where she kept them; fourteen had disappeared in the night. One of the remaining four died a month ago, she says, so now she is left with a ram and two ewes.
'Eeehh...mmmm.' She shakes her head at the thought of it all. 'Yes, it was painful. We buy what they eat with money. I got depressed when they were stolen, after having built the flock. But if you stand outside when the thieves are doing that, they simply kill you.' The loss was a massive blow to the family. She had been ploughing about R1 200 or R1 300 a month on fodder to keep the flock going. Now they have gone, probably sold off to a local butcher for about R800 or R1 000 per sheep. All that investment gone, in a single midnight raid.
Similar stories of theft and vandalism emerge from Cape Town to Durban and Manzini, where people try to grow their own food – vegetables, fruit or livestock – in many cityscapes. Thabiso wants to build up the flock again, but Mapheello thinks it is too risky. He gets the final decision on matters like this, though, she explains later. That is just how it is.