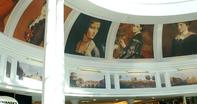 Introduction
This is a South African holidays route of beautiful things - be it oil on a canvas, a swirl of beads on a designer dress, or the sparkle on handcrafted silverware.
With the emphasis on local is lekker, we rounded up the fearlessly fashion conscious and the doyennes of the deeply desirable, to help find the most satisfying emporiums of covetable goodies, from art galleries to gift shops, from fashion designers to master crafters.
Call it retail therapy, call it the pursuit of beauty - whatever it is, it's not for sissies. We're packing in a lot here: be warned that this route is aimed at committed shoppers ready to go the distance. So slip into your most comfy pair of shoes, and keep up!
Time:
One day
Distance:
25km, round trip
Best time to go:
South African holidays or whenever you've got money in your pocket (and especially when you haven't) - nothing like a little light shopping to perk you up. Rainy days rule out the open air markets, otherwise anytime. Bear in mind early closing time for the city shops over weekends, so Saturday mornings and weekdays are great, with the bonus of the Groot Constantia antiques market on a Sunday.
The Route:
Shop - yes, till you drop - for beautiful things in galleries and other emporiums of the deeply desirable, in De Waterkant, Long Street, Kloof Street, Newlands and Claremont. Breakfast and browsing around the Cape Quarter and De Waterkant. A quick zip into the city centre, Shortmarket, Church, Long and Kloof streets. Lunch at Montebello Craft and Design Centre, Newlands.The afternoon at Cavendish Square, Claremont.
South African holidays reading list
Get hold of the House & Leisure Arts & Crafts Cape Town map, with maps and listings of galleries and shops in the city centre and the Cape. For absolutely every outlet offering a discount, consult Pam Black's A-Z of Factory Shops in the Western Cape (Pam Black Publications).
Vist the markets
Pan African Market - go from Cape to Cairo in one building (76 Long St)
Greenmarket Square - for clothing and curios (Burg St)
Church St Antiques Market - clothes, crockery, coins and more (Church St)
Green Point Flea Market on Sundays - a car-boot sale on a massive scale
Blue and Red Sheds at the Waterfront - for everything under the sun
Waterfront to De Waterkant - 4min
From the Waterfront turn right into Buitengracht. At the second lights turn right into Somerset Road. At about 500m, turn left into Dixon Road and left into the Cape Quarter.The lift from the underground parking delivers you into a delightfully different world - at the heart of the Cape Quarter is a piazza, complete with sparkling fountain and café tables, ringed with an enchanting variety of shops. Fortify yourself with a good breakfast on the square (or there's the fabulously French La Petite Tarte, with hibiscus and mallow teas, facing the street) before the shopping spree.
Make a point of popping into Africa Nova - all original African contemporary handmade art, including beautiful beads, fabrics, paper, jewellery and ceramics, and not a curio in sight. East of Eden is an eclectic mix of Asian kitsch and cool, with funky Icuba clothing as well. For the sheer majesty and scale of the pieces, have a look at Private Collections (part of Old Colonial). It's a huge shop of mainly Indian antiques and 'architectural pieces', like entire doorways, which must have come from maharajahs' palaces.
Walk out at Vos Lane and cross the road to India Jane, for spangled fashion from various designers (all beautifully grouped by colour), gorgeous shoes and some lifestyle gear, with A Suitable Boy above it - more of the same but for the boys. Keep going down Waterkant Street (towards the city) for about two blocks (it may well look as if you're heading into car mechanic land, but keep going!) to the 3rd i Gallery of modern contemporary art - 'it's what people are creating now', say owners Sharon Peers (photographer) and Chantal Coetzee (artist), who exhibit their own and other artists' work.
South African holidays are great for taking time to enjoy arts and culture. Head back to the Cape Quarter, cross through it (or pick up your car) and go along Jarvis Street to De Smidt Street. Inside Hill House is the Michael Stevenson Contemporary Gallery, one of the must-sees on the Cape Town art route, which hosts changing exhibitions from award-winning artists. Turn right into Somerset Street to get to the city centre, but be sure to stop at Plush Bazaar on the right - a splendidly whimsical place of antique glasses, mirrors, chandeliers and lovely Victorian garden things.
Somerset Street to Riebeeck Square - 4min
Turn right back into Buitengracht. Turn left into Kortmark (Shortmarket Street) and park on Riebeeck Square.Parking in town can be tricky, so abandon the car and walk. Cross Buitengracht and head (again among vehicle workshops) up Shortmarket to Streetwires, full of wizards who can make whatever you fancy out of wire. They're equally unfazed by orders for beaded chameleons or 2.5 metre high baobabs (destined for Kirstenbosch Botanical Garden).
Walk back across Riebeeck Square down to Long Street, then head right for two blocks (past the 30 stalls in one building of the Pan African Craft Market) to Church Street, another delicious mecca for lovers of beautiful things. Look around AVA (Association for Visual Arts), a non-profit dynamic gallery that showcases local contemporary work and has a shop selling pieces from recent exhibitions, and the Peanut Gallery across the road and upstairs, for more 'affordable art'.
The Peter Visser Gallery - ceramics in the basement, antiques on the ground floor and framed art up a tiny spiral staircase - faces Peter Visser Gifts, where among other covetable goodies you'll find a huge selection of Carrol Boyes pewter cutlery and gifts. African Image has an eclectic and cheerful mix of African artefacts and local fun stuff too. You may want to get your car now for a slow trawl up Long Street - peep into Bohemian Lifestyle for voluptuously pretty textiles and fantastic fairy lights, Still Life, an emporium of furniture and décor, and Mememe for an edgy mix of fashion and art.
Opposite Long Street Café, turn right up Buiten Street to the Bell-Roberts Art Gallery (on the corner of Loop Street) for über cool graphic art, a coffee shop and art bookstore (the business card folds up into a little box - how's that for graphic?). Cross Buitensingel and keep going up Kloof Street - if your credit card isn't smoking by now, it soon will be. Check out Bruce Tait Kitsch and Collectables, and So Now? which mixes fashion and art. There's also the Photographers Gallery, with the Lim (Less Is More) and Klooftique furniture and textile showrooms underneath, then Lim (the gift shop).
Look out for Ottigers near Melissa's (an excellent spot for coffee and a bite to eat), and Hotchi-Witchi for all things old and collectable, from kitchenware to cameras. You must stop at Heartworks, set slightly back on the corner of De Lorentz Street. It's a rainbow of quirky African arts and crafts, from bright beads and bags to delicate poppy and petunia-shaped cups and saucers from Kate Carlyle's Mustardseed and Moonshine range. Everything is sourced 'south of the Zambezi and nothing over wavy water', says owner Margaret Woermann. Marx & Harris is just a few shops further up - lovely décor and handmade, handwrapped soaps. Right near the top of Kloof is Loft Living, the last word in décor.
Everything is sourced 'south of the Zambezi and nothing over wavy water', says owner Margaret Woermann. Marx & Harris is just a few shops further up - lovely décor and handmade, handwrapped soaps. Right near the top of Kloof is Loft Living, the last word in décor.
Kloof Street to Montebello - 15min
Turn back down Kloof Street and into Rheede Street, opposite Vida e Caffè - the best muffins in town! Turn right at traffic lights into Orange Street; keep following M3 Muizenberg till you join the highway. At 8km take Exit 8, M146 Princess Anne Avenue and turn left to Newlands. Get into right lane immediately, and turn right into Newlands Avenue. Turn left into Montebello at 9km. The beautiful cast-iron filigreed fence around Montebello hides a cool and quiet oasis of artists' studios, jewellers, mosaic makers, ceramicists and a Bushman craft shop, housed in elegant old buildings that were once stables and a cowshed for the nearby homestead.
There's also an old-fashioned glass greenhouse attached to a nursery, with a blacksmith's forge at the back. Have lunch under the shady trees at the Gardener's Cottage, then wander around the studios to watch buyable art in the making - look out for fine artists and printmakers Alma Ita Vorster and Judy Woodbourne who are based here.
Montebello to Cavendish Square - 5min
From Montebello turn left into Newlands Avenue. At 400m turn left into Kildare Road. Pass Melissa's deli, Elzbieta Rosenwerth (fashion) and L'Orangerie (décor). Cross Protea Road at 1.4km and turn left into Cavendish Square parking at 1.6km. And this is where we'll leave you, confident that there's something at Cavendish to delight even the most footsore shopper or discerning art lover. Make a point though of looking in at the Young Designers Emporium, an innovative concept store created by entrepreneur Paul Simon, who realised young local designers needed a showcase for their fashion.
So you'll find loads and loads of on-the-edge labels from fashion gurus in the making (but please know that they cater for skinny people only).Paul Simon then took it further with Bread and Butter around the corner. He and art curator Kim Stern have created an art-gift store where they sell delighful off-the-wall graphic goodies made by local artists - the 'bread-and-butter' work that finances their more serious art. It's whacky stuff - you too can have the best-dressed ironing board on the planet. End the day with dinner or a movie, or just keep shopping - stores stay open till 18:00 during the week, 21:00 on Fridays and Saturdays, but close at 16:00 on Sundays.
Cavendish Square to Waterfront - 15min
Take the Vineyard Road parking exit and turn left. Turn right into Cavendish Street, then left into Protea. Turn right at the circle. At the traffic lights turn right into Edinburgh Drive, following M3 Cape Town. At Hospital Bend veer right, and follow the signs back to the Waterfront.
Insider trading
Traditional home of the rag trade, Cape Town has factory shops for several desirable famous brands:
Zoom shoes, 18 Auckland Street, Paarden Eiland
Hip Hop, 39 Roeland Street, Cape Town
Green Cross, 26 Benbow Avenue, Epping Industria
Polo, Shop A6, Access Park, Kenilworth
Speedo, Bofors Circle, Epping Industria
3rd I Gallery 95 Waterkant Street, 021 425 2266

Cape Quarter Cnr Dixon & Waterkant Streets, Green Point, 021 421 0737
India Jane (Also In Kalk Bay And Claremont), 021 421 3517/8
Michael Stevenson Contemporary Gallery Hill House
De Smidt Street, 021 421 2575
Pan African Market 76 Long Street, 021 426 4478
Plush Bazaar 30 Somerset Road, 021 419 8328
Streetwires 77/79 Shortmarket
Around Church Street:
African Image 021 423 8385
Association For Visual Arts 021 424 7436
Peanut Gallery 021 426 5404
Peter Visser Gallery 021 423 7870
Peter Visser Gifts 021 422 2660
Kloof Street:
Bruce Tait Kitsch Collectables 021 422 4567
Heartworks (Also Gardens Centre), 021 424 8419
Hotchi-Witchi 021 422 3811
Klooftique 021 424 9458
Lim 021 423 1200
Loft Living 021 423 1465
Marx & Harris 021 422 3980
Ottiger's 021 422 5528
Photographers Gallery 021 422 2762
So Now? 021 422 5085
Long Street:
Bohemian Lifestyle 021 422 4462
Mememe 021 424 0001
Still Life 021 426 0143
Claremont/Newlands
Montebello Craft Design Centre 31 Newlands Avenue, 021 685 6445
Cavendish Square Shopping Centre Claremont, 021 674 3050
By Adélle Horler.