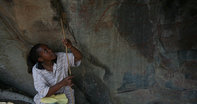 "Sometimes, by the time that piece reaches the final consumer at R500, the crafter will have made R50 so it would appear that the middle man benefits the most."
Review by Jo Kromberg
Beautiful rolling green hills, tropical palm trees, frequent cattle in the road, laughing children waving with both hands - these are my fond and eclectic memories of Swaziland.I'd been there on holiday as a child and returned many years later for the opening of the revamped Swaziland Royal Swazi Sun International Spa.
The roads had potholes, the buildings were somewhat derelict but the inhabitants were some of the friendliest, most hospitable people I have ever come across. The week-end at The Royal Swazi Spa was, needless to say, heaps of hedonistic fun.
History:
But back to Swaziland itself. It is a country rich in culture and steeped in fascinating history. According to tradition, the original followers of the present Dlamini royal house of the Swazi nation migrated south before the 16th century to what is now Mozambique. As result of a series of skirmishes with locals, the Ngwane (as they then called themselves), settled in northern Zululand in about 1750.But pursued by a growing Zulu strength, the Ngwane had to move north in the 1810s and 1820s. Under King Sobhuza I, they established themselves in the heartland of modern Swaziland, conquering and incorporating many long-established independent chiefdoms, whose descendants also make up much of the modern Swazi nation.Contact with the British came early in Mswati's reign, when he asked British authorities in South Africa for assistance against Zulu raids into Swaziland. It also was during Mswati's reign that the first white Transvaal Boers settled in the country. Following Mswati's death, the Swazis reached agreements with British and South African Republic authorities over a range of issues, including independence, claims on resources by Europeans, administrative authority and security, though the white parties later reneged on those agreements.As result of Swazi royal protest, the South African Republic, with British concurrence, established partial colonial rule over the Swaziland from 1894 to 1899, when they withdrew their administration with the start of the Anglo-Boer War. In 1902 British forces entered the territory, proclaiming British overrule and jurisdiction in 1903, initially as part of the Transvaal. In 1906 Swaziland was separated administratively when the Transvaal Colony was granted the responsibility of government.Throughout the colonial period from 1906 to 1968, Swaziland was governed by a resident commissioner who ruled according to decrees issued by the British High Commissioner for South Africa. Under pressure from royal non-cooperation, this proclamation was revised in 1952 to grant the Swazi paramount chief a degree of autonomy unprecedented in British colonial indirect rule in Africa.In 1921, after more than 20 years of regency headed by Queen Regent Labotsibeni, Sobhuza II became Ngenyama (lion) or head of the Swazi nation. In the early years of colonial rule, the British expected that Swaziland would eventually be incorporated into South Africa. After World War II, however, South Africa's intensification of racial discrimination induced the United Kingdom to prepare Swaziland for independence.Political activity intensified in the early 1960s. In 1966, the UK Government agreed to discuss a new constitution. A constitutional committee agreed on a constitutional monarchy for Swaziland, with self-government to follow parliamentary elections in 1967. Swaziland became independent on September 6, 1968.In 1988 and 1989, an underground political party, the People's United Democratic Movement (PUDEMO) criticized the king and his government, calling for 'democratic reforms'. In response to this political threat and to growing popular calls for greater accountability within government, the king and the prime minister initiated an ongoing national debate on the constitutional and political future of Swaziland. This debate produced a handful of political reforms, approved by the king, including direct and indirect voting, in the 1993 national elections.
Economy:
Swaziland is landlocked and the economy is heavily dependent on South Africa from which it receives 83% of its imports and sends 74% of its exports. Export products include wood pulp, soft drink concentrate and sugar. South Africa's economic success has had negative effects on the Swaziland economy as a result of its attraction to foreign investors. In 2001 Swaziland only attracted US$20 million in foreign direct investment.
Agriculture and the agro-industry form the basis of the economy with sugar, citrus and wood pulp as the main products. Subsistence agriculture employs about 60% of the population.
Arts and Crafts
The art and craft outlets and traditional markets of Swaziland are undoubtedly one of the Kingdom's greatest attractions. Whether wanting a souvenir of an African holiday, a key decorative feature for a living room or office or maybe a special present for a love one back home, hours can be spent in the grip of Swaziland's handcraft industry.Swaziland's handcraft industry broadly falls into the two of categories of formal and informal. It is a major tourist attraction and many organisations in this category are actively involved in promoting both the craft and tourism industries.One of these is the Swaziland Trading House (STH), an initiative by the Ministry of Enterprise and Employment (jointly funded by the Swaziland Government and the WK Kellog Foundation) for enterprise development and employment creation through the development of cultural industries. Cultural industries like handcraft have been identified among the key industries with export potential mainly benefiting rural women and the youth. However, this has been undermined by serious challenges in lack of appreciation of the potential of their craft to change their economic status and livelihoods.One of the aims of the STH is to provide marketing infrastructure by setting up retail outlets in strategic markets and hence moving the craft producer up the value chain. The rationale of prioritizing handcraft centres on the ability of export-ready craft to generate sustainable job opportunities in rural areas especially as a means of addressing unemployment, poverty and the effects of HIV/Aids.Through a process phase-wise growth, the services of the Swaziland Trading House will diversify to other areas with similar potential like value-added agricultural products, leather products, cotton garments, furnishings and made-ups, wooden products, services and imports.The informal crafts group mainly comprises rural Swazis who produce traditional items which include baskets, carvings and clay pots. Several thousand people, mostly women, rely on handcraft activities to earn incomes. Many of them are self-employed and although they possess little business acumen or back-up systems, they receive assistance from various organisations. This includes the provision of raw materials, training to upgrade and perfect standards, identifying and penetrating suitable markets, and promoting the goods.Craft items are sold to export markets and are also available in local shops, and are widely sold at markets and along the roadsides. These vendors and their stalls are popular tourist attractions.
The Swazis also produce lovely carvings in soapstone and wood, which depict various animals and people.Swaziland's formal handcraft industry is well-established and operates within professionally structured business parameters with proper infrastructure and administration. This sector produces a wide diversity of goods, including hand-woven and knitted fabrics, tapestries, screen printed items, jewellery, ornamental candles and glassware.Craft oriented operations comprise a key sector of the economy, producing a diversity of goods for local and export markets while providing employment and generating incomes.
Says Nokwazi Mabila, Product Development Executive at STH: "I guess all crafts started many generations ago when our ancestors carved, weaved or moulded whatever utensil they needed, such that all craft in that time was purely for utilitarian purposes. These skills were passed from one generation to the next through a family apprenticeship system. Materials used must've been natural inputs readily available within those communities.""Its development however is another story. Trade and intermarriages between communities have played a major role in the exchange of skills and designs. This involved not only its function but size and finishes became a priority. I would venture to say that our forefathers at this point had alternatives. So not only function, but form became important." She goes on to say that the invention of money also meant skills were traded and the client's wants and needs took priority over historical function."Today we use these once utilitarian objects as decoration and objects of art. Interestingly enough, in my day-to-day dealings, I'm still confronted by the same question: what takes priority? Our traditions or market demands?"
She says that three skills still dominate the crafts industry in Swaziland today: weaving, pottery and carving.In weaving two grasses are normally used; lutindzi (a seasonal mountain grass) and baskets dominate this trade. "Women also weave the most beautiful baskets from sisal fibre," she adds. Mats in all sizes and baskets, for every use are produced. One type of basket work is so closely woven it will store liquids, the basket itself absorbing some of the fluid and keeping the contents cool by evaporation.Also manufactured are wooden sculpture, painstaking soapstone carvings, glassware, mohair, tapestries, imaginative pottery and silk-screened batik's and clothing present an array of colours, textures and designs.Nokwazi says the most buyers are from South Africa regionally and from Germany internationally. Swazi craft is available not only in Swaziland but South Africa with SA being the largest importer of Swazi craft in the region. "We usually ship our merchandise through DHL or inter freight internationally."The industry is dominated by women with most men carving only (women also carve). "Of note is that most of these crafters are old with little skills transfer to the younger generation so it would almost look like a dying skill, and this is something we are trying to rectify through training programmes." Despite this, Swazi crafts are hardly promoted in schools and the only influence that students get is from their mothers and grandparents who still actively work with craft.She is confident though that the industry can one day function independently in its own right. "Personally, I would like to the see the day when the craft sector is no longer a by-product of cultural activity nor a value add to tourism attractions but an economic sector that has a complete production and supply value chain."She says that in the handicraft industry, unlike in other industry, the crafter who is at the bottom of the chain makes the least. "Sometimes by the time that piece reaches the final consumer at R500 the crafter will have made R50 so it would appear that the middle man benefits the most."
She says she's not sure how other projects are funded but at inception, STH was jointly funded by the W. K. Kellogg Foundation. "We've been partly funded by agencies like the Commonwealth Secretariat, Technoserve and The United Nations.In terms of proliferation, artists and craftsmen are found in every corner of the country.
The road through Ezulwini has, however, become the centre of the Swazi craft industry with numerous outlets and small markets on either side of the road. The Manzini Market and emerging outlets on the road to Siteki and Lavumisa are some of the other venues to choose from.There is much room for expansion in the handcraft sector, particularly for the players in the informal category. As mentioned, these are mainly self-employed women, who often possess little business knowledge and are hampered by lack of contacts, relying on passing trade and tourists who buy from roadside stalls and small shops. Further, due to lack of training, their goods may not meet international market requirements and, in any case, they cannot individually produce sufficient quantities to interest bulk buyers.In addition the STH, there are organisations such as Tintsaba Craft in northern Swaziland which have taken the initiative by employing rural women who work at home producing items such as traditional baskets. They are supplied with materials, thus eliminating the need to invest their much-needed cash, and also receive the training that ensures the goods they produce meet international standards. Collectively, these women can produce sufficient quantities to meet the needs of international buyers, with whom their mentors deal. Hopefully, in time, the industry will take its rightful place in the economy with any trace of exploitation eradicated.