Colourful Cape Jazz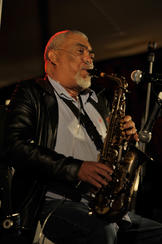 ©Eric Miller
Robbie Jansen performing in 2007.
The late Robbie Jansen was an alto-saxophonist and flautist who expertly overlayed jazz instrumentals with funky sounds. This South African jazz musician, composer and arranger was known for his unique mix of Cape Malay Goema and traditional African rhythms.
Born on 5th August 1949, in Cape Town, Jansen's first instruments were the concertina and mouth organ. The first music he played was inspired by British pop, but after a trip to London, he was exposed to black jazz music from America and decided to learn a brass instrument. He became a self-taught alto-saxophonist and went on to play with the band Pacific Express in the 1970's, with whom he toured America and Europe.
Jansen's solo career kicked off when he collaborated with fellow musicians Basil Coetzee and Abdullah Ibrahim to record 'Mannenberg'. He then became a prominent figure in the Cape Jazz community, developing a unique sound with influences from traditional Malay, Salsa and American Jazz.
His brand of 'goema' jazz soon became popular amongst Cape jazz fans. 'Goema' music is defined as a traditional Cape coloured music genre, which combines 'carnival', lively sounds and Cape Malay instrumentals. In 1977, Jansen became more actively involved in the community and started an arts centre called The Community Arts Project with fellow musicians Errol Dyers and Basil Coetzee in Cape Town.
Throughout the 1980's, Jansen performed with various notable musicians. He played on stage with Johnny Clegg and Sipho Mchunu's band Juluka, as well as the Genuines and The Roberts. Jansen was a fearless anti-apartheid activist and recorded the stuggle album 'Sabenza' with fellow activist musicians. He was an prominent performer at anti-apartheid gatherings and events. In 1989, Jansen released his debut solo album 'Vastrap Island'.
His second solo album, 'The Cape Doctor', was released in 2000. Jansen was an expert composer and arranger, often composing songs for other musicians. In 2007, Jansen could no longer travel long distances due to health complications. After he was released from the hospital, he continued to perform until his death in 2010.
Jansen was loved and respected by his fellow jazz musicians and is known as a pioneer of Cape Jazz, bringing new life to local jazz with distinctive sounds.