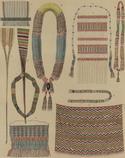 ©Muller and Snelleman c.1892
When Muller and Snelleman travelled through southern Africa in the late 19th century, they collected and recorded examples of beadwork styles from different communities, including a South Sotho beaded garment with triangular patterns stacked one on top of the other. This design principle was commonly used in South Sotho beadwork at that time.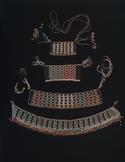 ©Heini Schneebeli
A to d. 19th century
Material: Glass beads, sinew, brass studs, and seed pods
a. Height: 7 cm; Width: 13 cm
b. Height. 7 cm; Width: 18 cm
c. Height 7 cm; Width: 36 cm
d. Height. 8 cm;Width: 55 cm
South Sotho beadwork typically include stacked triangles fashioned through a combination of black, green, red and pink beads. Some also have seed pod tassels, attesting to the ongoing interest in locally available materials following the introduction of imported glass beads.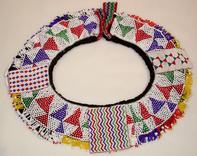 Tsonga beaded waistband
Mid- to Late 20th century
Because of the practice of recycling beads and beadwork panels, it is not uncommon to find garments that combine beaded sections made at different times. Beads imported from Taiwan since the late 20th century are cheaper and larger than older glass beads originating from Europe. In some communities, labour-saving beadwork techniques have become increasingly fashionable, including a reliance on sparsely beaded, latticework designs.