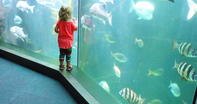 Introduction
There's no shortage of things to occupy the kids during South African holidays when the sun's shining, but what about when the weather won't play along? Before everyone starts climbing the walls, head under cover for some adrenalin-charged action-climbing and ice-skating, with some educational bits in between.
In case you're travelling in other directions, we have included more options along the N1, around the Cape Peninsula and along the N2 in Somerset West, plus some outdoor stuff for when the weather's being more obliging. All these venues are guaranteed to banish adult boredom as well. So go on, release your inner child...
Time:
One day
Distance:
About 45km
Best time to go:
Any time, but busier during local school holidays in December, January, June and July.
The Route:
Indoor fun for rainy days, with ideas around the Peninsula and Somerset West for when the sun comes out. Ice-skating (or whatever!) at GrandWest Casino and Entertainment World. Mind-boggling stuff at the MTN ScienCentre in Canal Walk, Century City. Indoor climbing at City Rock, Observatory. If your kids are too young to climb, head back to the Waterfront for fun at the Two Oceans Aquarium, Scratch Patch, Telkom Exploratorium, Cyberworld.
Before you go, this South African holidays route is geared for children aged five years and older, with no upper age limit. City Rock is closed in the mornings (although this may change, so phone to check). No kids under five at City Rock, for safety reasons.
GrandWest's ice-rink has morning and afternoon sessions, but is closed daily 12:00-14:00 for resurfacing and private training. The Magic Castle is normally closed Mon-Thurs, but opens during school holidays.
Waterfront to GrandWest Casino & Entertainment World - 20min
From Waterfront turn left, following signs for N1 Paarl. At 7km, take Exit 10 to Sable Road, Century City. Keep straight past Century City, following signs to N7 Goodwood. At 11km, take Exit 13B to Goodwood - the road curves around to join the N7 highway. Go straight through three traffic lights. At 15km take exit to Thornton, Epping, then turn left at the traffic lights into casino.Mention a magic village of Barbie Doll World, LegoWorld and Lion King World and kids will feel they've hit the jackpot. This is fantasy land for both adults and kids; it's fake but fun.
Best of all is the Olympic-size ice-skating rink, and a separate mini-rink for the very small ones, with tables all round so you can keep an eye on them. Boots for hire start with bob skates (a skate with double blades, strapped to the shoe) at baby size eight and go up to adults' sizes. A vast games arcade leads you to The Magic Castle, which has mini Putt-Putt and loads of fairground attractions like bumper cars and a carousel, as well as a go-kart track if you're 1.5 metres or taller. (Children under 10 years must be accompanied by an adult.)
The Magic Village has themed 'worlds' and a monstrous jungle gym, where kids are supervised and entertained. Note that children are not allowed near the gaming areas, so if you want some kid-free time while you try your luck on the tables and machines, there is a crèche for children under four years, or supervised care and extra security in the Magic Village, where sensors are clipped to the child's clothing, and the entire area is covered by closed-circuit TV.
GrandWest to MTN ScienCentre, Canal Walk - 25min
Leave GrandWest and turn right under the highway to join it (N7 Malmesbury). At 4km, take Exit 13A, N1 Cape Town. At 6km take Exit 10 Sableweg, turn right at the lights and cross over the highway. Ratanga Junction will be on your right. At 8km, turn right at the traffic lights into Century Boulevard. Aim for Entrance 5 of the Canal Walk shopping centre and park on the roof. The ScienCentre is situated in Shop 407.
If you've ever wondered what you'd weigh on Mars, the answer's at the MTN ScienCentre, an awesome, hands-on playground where you can do some really cool stuff, like experience what it's like to walk (or rather boiing) around on the moon, or play a symphony on a laser harp with no strings. You can land a satellite in the space simulator, watch yourself in a zero-gravity mirror, and find out why wheels don't have to be round. This is a favourite for kids on their South African holidays.
This is fun stuff for all ages and even three-year-olds will enjoy the construction site. The space race spawned a variety of handy gizmos we know today, such as tinfoil, cordless drills for EVA (extravehicular activity) and digital watches. NASA also developed a space pen, so that American astronauts could write upside-down and in zero gravity. The Russians simply used pencils!
MTN ScienCentre to City Rock - 25min
Follow exit signs to N1 Cape Town and retrace your route past Ratanga Junction and onto the highway into the city. At 5km, take Exit 7A, M5 Muizenberg. Keep right as the road splits, following M5 Muizenberg. At about 8km, take Exit 9B N2 Cape Town, curve around and join N2. At 10km, take Exit 8, Liesbeek Parkway. At the traffic light, turn right under the bridge (M57 North). At 11km, after stadium, turn left into Station Road. Cross bridge, turn right into Drake Street and right again into Collingwood Road. City Rock is the last building on the right.
OK, now you're allowed to climb the walls. After squeezing into a harness and clipping onto a safety line, there are 450 square metres of wall (and ceiling), dotted with hand- and footholds, waiting for you at City Rock, South Africa's largest indoor climbing gym. The different routes are graded from easy to (almost) impossible, and there's a dedicated beginners' and kids' wall. Or you can try scrambling up a range of 'boulders', with the comfort of very thick mats at the bottom. You don't have to be an experienced Spiderman to have fun here.
Two-hour beginners' courses are available, or you can hire staff to belay you (keep you secure on the safety rope as you climb), and they'll help you with technique too. This is guaranteed to get the adrenalin pumping, even for kids who feel no fear! And, adults, give it a go - you will definitely love the thrill. City Rock is owned and run by experienced climbers, and there's a strong emphasis on safety. Hire gear or bring your own. This is also a great place for kids' birthday parties, and there are special programmes during school holidays.
The climbs are graded from an eight (which anyone would be able to  do) to a white-knuckled 32 - so far only one person has managed to do that climb. Grown-ups, if you feel you now deserve a stiff drink after this kid-friendly day, there are several good restaurants and pubs along Lower Main Road in bohemian Observatory. Otherwise head back to the Waterfront where there's lots more to do for both kids and their parents.
City Rock, Observatory to V&A Waterfront - 7min
From City Rock turn left into Drake Street then right into Station Road. At traffic lights, left into Lower Main Road. At around 600m, turn right into Bowden Road and cross Main Road. At 1km, take the left fork onto the bridge, and turn right at the stop street to City/Stad. Join the highway and follow the signs to the Waterfront.
The Great Outdoors
When the weather's too good to waste indoors, get out and enjoy the sunshine (but don't forget the sunblock).
Outside action: Head for the hills and enjoy the sunshine on easy walks on the mountain, from Silvermine to Table Mountain. Around the Cape Peninsula, try Groot Constantia, where there's plenty of space to roar around while you enjoy lunch (see Antiques Route, pp 91-93), or Kirstenbosch Botanical Garden for picnics, lawns for games, nature walks and ducks on the ponds (see Big Hits Route, pp 21-22).
But for some real action, get hooked up to a cable for a 900 metre waterski around the lake (or wakeboarding and slalom) at Blue Rock in Somerset West. There's also freshwater scuba-diving, beach volleyball, mini golf, a restaurant and a children's playground.
Beach Babies
Pack a picnic, brolly and loads of sunscreen and head for the beach. Boulders, past Simon's Town, offers safe, calm bathing amid huge boulders, with penguins to keep you entertained. (Entrance fee charged.) More safe seas at Fish Hoek, with rock pools to explore off Jager Walk and jungle gym near the restaurant (have a meal while the kids let off steam).
Surfer's Corner at Muizenberg attracts board riders of all ages, with miles of beach and safe swimming. Don't forget the tidal pools at St James, Kommetjie and Dalebrook. Closer to town there are several places to access the beach along the Sea Point beach front, although the shoreline's a bit rocky.
Furry and Feathered friends
If you're travelling out towards Stellenbosch and Paarl on your South African holidays, look out for a variety of wild beasties, all fairly close to the N1 highway, at the Drakenstein Lion Park, Butterfly World, Le Bonheur Croc Park, Animal Zone and Tygerberg Zoo. (See the Cheese Route on p 66 for details.) Ride a camel at Imhoff's Country Craft Farm in Kommetjie, or head to Hout Bay's World of Birds, where you can see over 3 000 birds in natural surroundings.
And on a slightly larger scale, have a look at South Africa's biggest bird at the Cape Point Ostrich Farm. Up the N2 to Somerset West, stop at Monkey Town, a primate rehabilitation centre, to come face to face with our closest relatives from covered walkways, as the monkeys roam freely. Firlands Farmworld is a little further, where you can wander among all sorts of farm animals, as well as a llama or two.
What else is nearby?
Ratanga Junction - the largest theme park in Africa. Closed in winter
Sanccob, the world-famous rescue centre for injured or oil-soaked coastal birds. The penguin feeds at 10:00 and 15:00 are great to watch
West Coast Ostrich Ranch. Learn about these birds, sit on one, and try standing on one of their huge eggs.
Tygerberg Zoo and endangered wildlife breeding centre - see who's who at the zoo
Canal Walk / Century City
Canal Walk Shopping Centre 0860 10 1165, Daily 10:00-21:00
Children's Garden At Spier 021 809 1159, Daily 10:00-17:30
City Rock Observatory, 021 447 1326, Mon-Fri 13:00-21:00, Sat, Sun And Holidays 10:00-18:00
MTN Sciencentre Canal Walk, 021 529 8100, Mon-Thurs 9:30-18:00, Fri-Sat 9:30-20:00, Sun 10:00-18:00
Grandwest Casino
Games Arcade Mon-Thurs 10:00-23:00, Fri & Sat 10:00-01:00, Sun 10:00-23:00
Grandwest Casino & Entertainment World Goodwood, 021 505 7777
Ice Skating Rink Daytime Sessions Weekdays 10:00-12:00, 14:00-16:30
Sat 9:00-11:30, 12:00-14:30, 15:00-17:30, Sun 12:00-14:30, 15:00-17:30
Magic Castle Fri 16:00-24:00, Sat 10:00-24:00, Sun 12:00-20:00, School Holidays 12:00-24:00
At The Waterfront
Cyberworld 021 419 0156, Daily 9:00-21:00
Imax 021 419 7365, Daily 11:30-20:30 (Or 21:45 Fri & Sat)
Scratch Patch And Mineral World (Also In Simon's Town) 021 419 9429, Mon-Fri 8:30-16:45, Sat, Sun and holidays 9:00-17:30
Telkom Exploratorium 021 419 5957, Mon-Sat 9:00-17:00
Two Oceans Aquarium 021 418 3823, Daily 9:30-18:00
Somerset West
Blue Rock Cable Waterski 021 858 1330
Firlands Farmworld 021 856 3130, Mon-Fri 8:30-17:00, Sat-Sun 8:30-18:00
Monkey Town 021 858 1060, Daily 9:00-17:00
Cape Peninsula
Cape Point Ostrich Farm 021 780 9294, Daily 9:30-17:30
Imhoff's Farm Kommetjie, 021 783 4545, Tues-Sun 10:00-17:00
World Of Birds Hout Bay, 021 790 2730, Daily 9:00-17:00
By Adélle Horler.