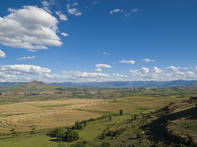 © Roger de la Harpe
Botshabelo is situated in the Motheo and Xhariep region of the Free State Province in South Africa. It is located on the N8 and only a 45 kilometre drive from Bloemfontein.
Botshabelo is the largest township in the Free State and the second largest in South Africa. The main attraction of Botshabelo is the South Ndebele open-air museum, which offers a vivid picture of Ndebele history and culture. The living museum depicts the development of Ndebele architecture from the early dome-shaped grass homesteads to mud-walled homes with their famous mural decorations. Its streets are lined with arts and crafts which are locally produced by the residents.
The area surrounding the mission has been set aside as a nature reserve which can be explored along day walks. Guided tours are available and visitors might chance upon eland, black wildebeest, blesbok, red hartebeest, springbok and Burchell's zebra.
History Behind Botshabelo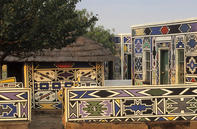 ©Roger de la Harpe
Botshabelo, meaning "a place of refuge", was established as a mission station by Alexander Merensky of the Berlin Missionary Society in 1865 as a refuge for subjects of Sekhukhune who were being persecuted for adopting Christianity.
In the same year, a sturdy stone fort (later known as Fort Merensky) was built to protect the mission, which was later developed into a sizable village with a Gothic-style church, parsonage, school, trading store, water mill and a teacher's training school. Merensky also opened a printing press, where a Sesotho version of the Bible, hymn books and school books were printed, and a book bindery.