Cape Jazz Legend
One of the greatest jazzmen to come out of South Africa is none other than Basil Coetzee. His distinctive tenor sound and commitment to his Cape roots made him one of the most well-known musicians from the Cape Jazz scene.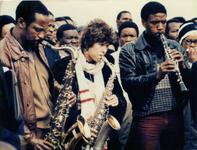 ©Dr Peter Magubane
Basil Coetzee (left) performing with fellow musicians at a venue in Johannesburg in the 1970's.
He was a successful saxophonist who became a local household name during the 1970's. Coetzee was born in 1944 in District Six, Cape Town. He was exposed to music at a young age, drawing inspiration from the vibrant music scene of District Six, a former residential area in Cape Town.
At the age of 14, Coetzee started playing the penny-whistle, giving lively performances locally. He then moved on to drums and flute before falling in love with the tenor saxophone. He was an incredibly talented self-taught musician. During the apartheid years, District Six residents were forcibly removed, and Coetzee's family moved to Mannenberg.
After he joined their music scene, his music became even more interwoven with township culture. He became known as Basil 'Mannenberg' after collaborating with renowned musician Abdullah Ibrahim. They recorded a composition together called 'Mannenberg' which became an enormous hit in the Cape Town townships.
It is now a South African jazz classic that many new musicians study to better their own songs. Coetzee developed a soulful, passionate instrumental voice with a raw urgency at its core. He combined American hard bop jazz with townships jazz styles like marabi and kwela, which made his brand original with a joyful, expressional sound.
Coetzee would often describe his music as a product of the environment around him - the hardships people face in the townships, their frustration and lack of hope - he tried to reflect that in his music. Coetzee did not join his fellow jazz musicians when they went into exile during the apartheid years.
He continued to make music in South Africa, which underlined the struggle coloured musicians faced at the time. When hope was sparse, Coetzee fought to make music on his own terms, creating his own style of music that would defy the apartheid government and inspire the liberation struggle. In the 1970's, Coetzee was signed to Mountain Records, with whom he produced his solo albums. He continued to perform at various venues locally and in 1988, he toured Europe, releasing the album 'Sabenza' with musicians Robbie Jansen, Paul Abrahams and Jack Momple.
The album was a defining moment for Cape Jazz: American-influenced jazz was replaced with more distinctive Cape Jazz, 'goema' sounds and an energetic vibe.
Coetzee's second solo project called Monwabisi was recorded in the late 1980's, and was his breakaway moment to establish himself as a successful solo act. Throughout his career, he would periodically perform with the band Sabenza, and after Abdulla Ibrahim returned from exile, they would often collaborate.
Coetzee died in 1998 after a long struggle with cancer. His third album was released around the time of his death, and features some of his best works and contributions from players who worked with him for many years. Coetzee's death was a great loss for South African Jazz, but his memory will forever live on through his music. Basil Coetzee was a beloved father, musician and a friend to many, he made a notable impression on the SA Jazz industry.