Heidi Steck, the creative force behind Orgari, graduated from the Inchbald School of Design in London after schooling in England and Monaco. She returned to South Africa with a creative energy and drive to start her own brand. After working for a number of interior design companies, Steck started Orgari as a production and design agency in 2010.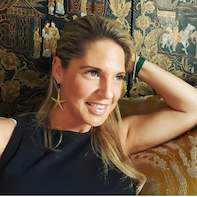 ©Orgari by Heidi Steck
Designer Heidi Steck founded Orgari in 2010.
Orgari was first based in Johannesburg, but then moved its production to Franschhoek near Cape Town, Western Cape. Their early brand image was centred around designing and creating beautiful gift products with the theme of South Africa's endearing Flora and Animal kingdom, capturing their vibrant colours and energy.
Steck's background and experience gives her the ability to personalize design for clients and their specific branding needs to meet expectations. Her objective has always been to seek out lifestyle images that are excitingly creative but with the impressive quality to meet every occasion. Her fluency in German, English, French and understanding of Italian allows this vast enterprise to succeed.
Since its inception, Orgari has served an extensive range of clientele both locally and internationally, with a primary focus on luxury and exclusivity. Nearly a decade on, the brand has established itself as a high-quality design company with a strong following and reputation of classic interior styling.
The brand's ongoing skills development initiative has produced more than 40 local fine artists who have contributed to Orgari's global following, embedding Steck's love for endearing African style in each authentic piece.