Natural Elegance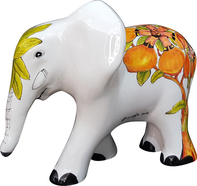 The salmon and orange hues of the Sparaxis elegans, an exquisite South Africa bulb, are unmistakable. Here, they've been painted by hand on an Elephant ceramic to make a unique and authentic local product. Beloved for its elegance, due to colourful patterning and anthers that appear as if they are coiled around the style, the Sparaxis is one of the most striking plants in Africa.

Matched to the form of a majestic Elephant, the combination makes for an unforgettable collector's piece.

Purchase it today on SouthAfrica.co.za.
By Orgari