A Happy Arrangement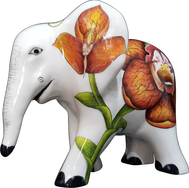 Hand-painted and signed by the appropriate artist, this white ceramic display piece has an air of individuality due to the radiant depiction of South African flowers on the elephant's foot. A Cape disa and an orchid make a simple but striking bouquet and give this ornate ceramic its eye-catching charisma.
This piece makes a thoughtful gift, and the worthy appeal of the packaging encompasses the intention of the design; it should be exhibited in the home to exuberate over a savvy investment.
Make an enquiry with SouthAfrica.co.za to order this ornate ceramic elephant for yourself or somebody that deserves to be spoilt.
Priced From: US$90
By Orgari