Orgari is a luxury lifestyle brand with a wide range of exclusive nature-themed gift products that embody elegance, sophistication and ethereal beauty. Designer Heidi Steck founded Orgari to express her creativity, heritage and love for fine art through exceptional, one-of-a-kind pieces.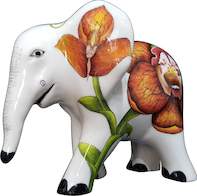 ©Orgari by Heidi Steck
Based in South Africa, Orgari is an internationally renowned brand that aims to produce high-quality and unique fashion, homeware, sculpture and interior design. Made from luxury materials, Orgari has an incredible collection of accessories suited to the modern homeowner and classic fashionista.
Oragri's client base stretches across Europe and Asia, as the brand is well-known for its African-inspired interior design that receives high praise from international clients. Nature serves as Heidi's ultimate muse and influences her entire creative process.
The brand's designs depict the majestic beauty of South African wildlife - images of the iconic baobab, acacia and coral trees are contrasted against statuesque animal figures like rhinos and elephants, which once roamed the ground beneath Orgari's Franschhoek production facility.
Both local and international sales are aimed at modern classic home and lifestyle enthusiasts with a passion for luxe materials, minimal design and extraordinary value. Orgari's exquisite décor range is imbued by simple design, which aids the brand's values of craftsmanship and quality.