Joyous Art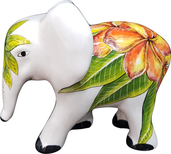 One of the world's most symbolic flowers, the Frangipani is often found in bodies of water at special events. From Buddhist temples to Hawaiian leis, they signify greeting, celebration and joy. This ceramic embraces the grace and beauty of the flower, depicting it on the body of an Elephant.

The majestic structure of this sacred mammal is almost completely surrounded by deep orange and yellow flowers and green flowering stems, an image that invokes true wonder.

Collect this striking ceramic, by enquiring on SouthAfrica.co.za.
By Orgari