Summer Joy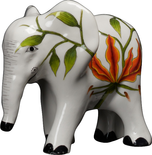 The Flame lily rewards the beholder with vivid hues of scarlet and yellow that resemble flames. Wrapped around the body of an Elephant, it gives this ceramic its unmistakable charm. Elephants evoke images of majestic African plains and splendour, and Flame lilies suggest contented summer days with beautiful butterflies and sunbirds descending on a garden.

Together they create a delightful collectable. Surround yourself with the joyous spirit of Africa.

Enquire about this ceramic at SouthAfrica.co.za.
By Orgari