Public Indecency Act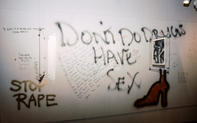 ©Tracey Derrick
Before the 1994 elections we had no freedom of press, clubs and social movement were restricted, and even who you lived with, was monitored. At the moment, we have virtually no laws governing this. While the constitution is being debated, prostitutes are working openly on the roads and clubs have been set free. It is no more a 'Public Indecency Act', if two men hold hands in public. We have had a huge political and social unravelling.
Social photographer Tracey Derrick spent two years getting acquainted with Cape Town's sex workers - streetwalkers, escorts, transvestites and massage parlour workers. A week before the opening of the photo exhibition at the Granary, Cape Town in 1999, Derrick invited the sex workers to the gallery where they left their own "artwork" on the especially made walls, to become part of the exhibition.
Derrick states that "one always sees the women on the streets, I wanted to speak to them. Why do they do it? And show to other people the world's oldest profession. They are so despised, but needed."
Basic Necessity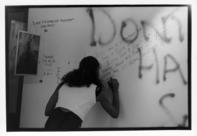 ©Tracey Derrick
The Tracey Derrick's Basic Necessity project had the full approval and backing of SWEAT - Sex Worker Education and Advocacy Taskforce. SWEAT, an internationally affiliated organisation, was conceived in September 1994 in response to concerns about the health needs and human rights abuse of sex workers. This unique project draws volunteers from the sex working population itself.