Pick Your Poison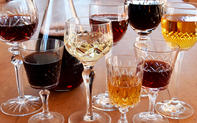 ©Louise Brodie
So you're at the supermarket, staring down the seemingly endless aisle of shelves upon shelves of wine, wondering how to make sense of it all. Not to worry! There is a wine for every taste bud, budget, occasion and preference, that includes a wide selection of delicious red, white, sparkling and fortified wines.
South Africa's wine industry is considered to be young, fun and innovative in comparison to the older vineyards of France, Germany and Portugal. That being said, SA's wines are a new generation - fruity and earthy with less of an alcoholic aftertaste. The country's red grapes are particularly interesting, producing rich wines with high alcohol content. Thanks to the local climate's diversity, all wines have a fresh, bright acidity with a unique taste. Merlot, Pinotage, Chardonnay, Cinsaut...pick your poison!
Choosing a wine variety can be difficult - getting the right bottle of wine that will suit your palate is not the easiest task. It becomes easier, however, the more you sample different varieties. Don't be shy! Try a new wine each time you buy, and explore what makes your taste buds happy.
So, if you are a bit lost in the mass of vino on offer, here is a quick guide to SA's most popular red and white wine varieties:
Red Hot Varieties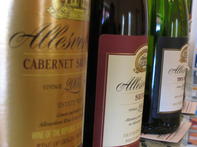 ©Jacques Marais
Red wines range from light and easy-drinking to intense and full-bodied.
Red wines are made from sun-kissed grapes that have higher sugar content than most. Dark fruits give most red wines their unique flavour, while subtle hints of spices, herbs and earthiness can also be detected. SA has a few local red gems that are faithful companions to braai's, family gatherings, birthday celebrations, a night out or even the christening of a baby - anything goes!
Cabernet Sauvignon is a dark beauty - it combines flavours of black cherry, black currant and spices that makes it great for pairing with lamb. It is a high acidity wine, with a bold tannis (bitterness) and a nice aroma. It's ideal for a romantic dinner or a braai with the in-laws, just add lamb!
Merlot is a great starter wine for novice drinkers. It offers a balance between boisterous red fruit flavours, medium acidity and a chocolate aftertaste. It is a lovely drinking wine, good for a casual get-together or picnic.
Shiraz is a historic grape, sometimes referred to as Syrah. It's heavy with intense flavours like blueberry and tobacco, with a peppery aroma. It's perfect for a night in with a good book.
Pinot Noir is a juicy wine, with a fresh taste of strawberry and cinnamon with a smooth feel. It's very versatile and can be enjoyed with almost any dish.
Pinotage is one of SA's favourites and is uniquely South African - it's a cross between Pinot Noir and Cinsaut, and its fruity notes make it an easy-drinking wine for any social event.
Cinsaut is a blush-pink wine with a sugary taste. It is low in tannin and the grape is very versatile, perfect for blending.
Ruby Cabernet is usually a more budget-friendly wine, with a fresh fruitiness and smooth taste. It's a great drinking wine, that is meant to be enjoyed in its harvest year.
Tinta Barroca is an intense and earthy blend of dark fruits and spices. It's ideally savoured with a plate of braai meat.
Muscadel is a thick, sweet wine with a high sugar content. It's the ideal winter warmer or after-dinner delicacy.
Crisp Whites
©Roger de la Harpe
Dry white wines pair great with seafood and chicken dishes.
White wines are synonyms with summer, as it is light, refreshing and so the perfect wine for any summer occasion. White wine grapes are versatile and a little more acidic, but nevertheless a great thirst-quencher on a hot summer's day.
Chardonnay is a popular variety with notes of citrus and a touch of vanilla. It's creamy and toasty if matured in oak barrels. It goes great with seafood and good company.
Sauvignon Blanc is quite acidic, with grapefruit undertones and has a herbaceous quality. It's dry, classy and served at almost every social event.
Chenin Blanc is the most widely cultivated grape in South Africa, meaning it's immensely popular and versatile. Both sweet and dry wines can be produced from the grape, as well as sherry and sparkling wine. It's an all-rounder super-grape!
Viognier is a warm-weather grape that makes delicious wine, ideally paired with spicy foods. Its flowery and earthy aromas make it quite intense, savoured in small sips.
Zinfandel is an extremely versatile grape that can be used for both dry and sweet white wines. This wine has an aroma of fruitiness, with high acidity and smooth aftertaste.
Hanepoot is an age old-favourite, used to make delicious sweet wine. It has intense honey flavours and is a great winter-warmer.
Best Bubbly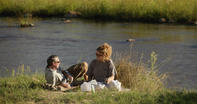 ©Roger de la Harpe
Sparkling wine is a celebratory drink that best enjoyed chilled.
Champagne, anyone? It's the most esteemed sparkling wine in the world, and popping one of these is a must at pretty much any celebratory event. In South Africa, winemakers produce sparkling wine the same way as champagne, but they are not permitted to call it by that name. Instead, they are called MCCs – Méthode Cap Classiques – named after the method used to make them.
Méthode Cap Classiques undergo a second fermentation in the bottle that allows it's signature 'bubbles' to develop. It is usually made with chardonnay, pinot noir and pinot Meunier grapes, which gives it a sweet and fresh taste. It's high in acidity, with an aroma of green apple and citrus. The dryer varieties pair well with seafood and sweet cheese, while the sweeter ones go great with salty cheeses and oysters.
Sparkling wines are wines with added carbon dioxide, with a sweet taste and sugary aroma. It's basically grape juice with some bubbles and alcohol, and it's delicious!