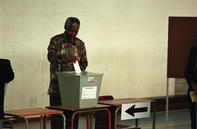 ©Eric Miller
Nelson Mandela casting his vote in the 1st SA all race elections.
After the first democratic elections in 1994, the National Symbols Commission took the responsibility of asking the South African public what the symbols of national unity should look and sound like. A great many South Africans from all walks of life had their say in what would become the proud voice, visual identity and signature of our country.
National Symbols Timeline
Ordinary South Africans became involved in public consultations to make and finalise the designs for our new National Symbols.
1993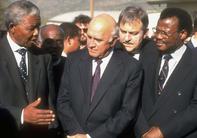 ©Dr Peter Magubane
From Lt to Rt: Mandela, President De Klerk, Botha and Buthelezi.
Mid-1993 - Negotiations for the transition from apartheid to democracy was well underway at the World Trade Centre, Kempton Park.
7 September 1993 - The Multi-Party Negotiating Council appoints a National Symbols Commission.
End 1993 - The Interim South African Constitution was adopted.
1994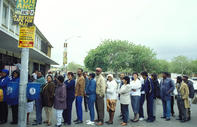 ©Eric Miller
Elections, 27 April 1994, people queueing to vote.
20 April 1994 - The New National Flag was adopted.
27 April 1994 - South Africa's First democratic elections.
1996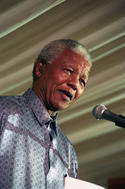 ©Eric Miller
Nelson Mandela at the Constitution party, Fernwood 1996.
10 December 1996 - The New Constitution was signed into Law in Sharpeville.
1997
©Eric Miller
Nelson Mandela visiting orphans at a childrens home in 1997
10 October 1997 - The New National Anthem was adopted.
2000
27 April 2000 - The New Coat of Arms was adopted.